Students begin to move from hotel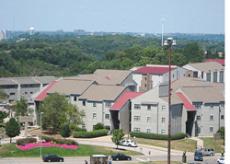 Students who were temporarily lodged in a local hotel and triple-bunked in dorm rooms are now being assigned to permanent on-campus vacancies.
Beginning Aug. 30, University Housing Director Matt Brown said the students will start moving to their new dorm rooms and apartments.
"Right now we're on the right track moving students from the hotel and detripling in the dorms," Brown said.
Two students have already been moved from the hotel to the dorms and four have been reassigned from a tripled room. Brown said housing is currently assessing the dorm vacancies to determine where to place the remaining students.
Students must be checked out of the hotel by Sept. 1 and assigned to a dorm room. Brown hopes to have all students into their permanent assignments by Sept. 6.
Though the vacancy assessment isn't complete, Brown is anticipating enough vacancies for the overflow students.
The only kink in the wheel for Brown placing the students is the limited space for male students, who make up most of the overflow students in the hotel.
"We're untripling women with no problems," he said.
Originally, 18 students were assigned to a room at Country Inn ' Suites in Wilder, Ky.
In addition to the 18 at the hotel, 25 rooms that originally housed two students were upped to having three. University Suites rooms and a few Residential Assistant rooms in Kentucky Hall were temporarily housing the 25 students on campus, according to University Housing Director Matt Brown.
Though Brown limited the number of returning students to campus to 500 last spring, the largest number of first-time freshmen applied for housing, and he had to turn many local students away. If students were from Kenton, Boone, Campbell, Hamilton or Clermont counties, they were denied residency after May 1. But Brown guaranteed a bed for first-time freshmen who applied for housing before May 1.
"I hope we won't have to do this again," Brown said.