Men's soccer team gears up for season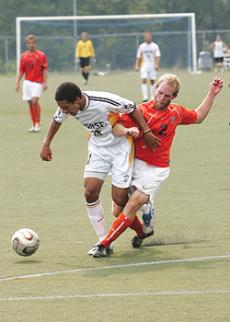 After an 11-8-2 record last year, the Northern Kentucky University Men's Soccer Team is picked to finish sixth in the Great Lakes Valley Conference.
The Norse received 105 points in the poll, 22 points ahead of seventh place Drury University. The Norse started off last year winning five of their first six games but then leveled out the rest of the season, before losing 4-1 to Rockhurst University in the GLVC Tournament.
This year looks to be a different one as the Norse added an impressive group of recruits for this year. The Norse added three transfers from Cincinnati State Technical and Community College and five freshmen from around the tri-state. Transfers Mirza Causevic, Chad Cook and Andrew Ortman will all be competing for playing time.
The Norse lost four seniors from last year but return a massive amount of talent. Goalie Michael Braun, defender and top scorer David Lies, midfielders Randy Walters and Kevin Holder have all graduated. NKU is returning midfielder/forward Tony Capurro, forward Chris Thompson and midfielder Jason Larkin, just to name a few.
Cook, a defender, should replace the void left by the departure of Lies, while Ortman, a goalie, will be competing for the starting job with junior Jeremy Curington. Causevic scored 27 goals for Cincinnati State last season, so he should be a welcome addition up top for the Norse.
The future looks bright for the Norse as it has an extremely young team. At the end of this season, the Norse will only be losing two seniors. Things can only go up for this talented group of players.
The Norse begin its season Aug. 25, in the John Toebben Classic against Salem International at 7:30 p.m. at the Town ' Country Sports Complex in Wilder, Ky.