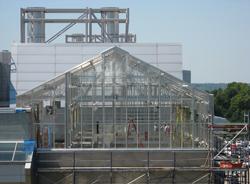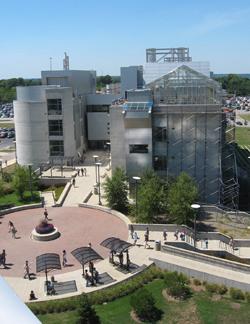 If construction remains on schedule, the Northern Kentucky University botany department will move into the new rooftop green house by October.
The greenhouse will function as a hands-on lab for students, a production site for general lab specimens, and a research facility for faculty. Tours for school groups and special interest organizations will also be scheduled.
"Since the greenhouse is on the roof, we will not be able to develop theme gardens outside the building as we had hoped," said biology professor Larry Giesmann, "but individual laboratory classes can visit the facility, and small off-campus groups can be accommodated for educational outreach."
Giesmann is expected to become the greenhouse manager upon the project's completion. During his spring 2006 sabbatical leave, Giesmann worked with local greenhouses and took a Greenhouse and Garden Center Management course at Cincinnati State University.
The original plan was to build the greenhouse on ground level, connected to the side of the science building. However, that location would have hindered future construction plans, according to Vice President of Facilities Management Larry Blake. He said the greenhouse will function well on the roof. The main entrance will be via the east stairway, and a platform lift will transport heavy supplies and provide wheelchair access.
The new greenhouse has three growing rooms, or climate-controlled environments, compared to the two rooms that the previous greenhouse had. "Independent heating and evaporative cooling systems for each growing room will be computer controlled," Giesmann said. "Environments can be regulated to accommodate plants from tropical to desert climates."
An automatic system will regulate sun exposure in the growing rooms using high quality shade cloth. This curtain-like system will produce higher quality plants, reduce heating/cooling costs, and provide a more comfortable work environment, according to Blake. The shade cloth is an improvement from the old greenhouse in Founder's Hall, which had to be sprayed with shading compound every year. "So, no painting panels," Blake pointed out. "That's a plus."
A computer-controlled, overhead drip system will provide precise watering for the plants. Some faculty members in the biology and chemistry departments have expressed concern regarding possible leaks from the recently installed waterlines for the irrigation system. "A lot of people were worried about it," Blake said.
To prevent any seepage, the roof below the greenhouse has been sealed with multiple water-proofing layers. "It's a roof over the roof," Blake said. He added that he does not anticipate a major problem with leaks, and monitoring the roof will help prevent problems before they overflow. "It's a matter of maintenance."
If the roof does leak, however, the greenhouse is located above an advanced chemistry lab that harbors expensive equipment. The lab directly below the construction area is used for upper-level physical, analytical and instrumental chemistry courses, according to Chemistry Department Chair Diana McGill. "In the rooms under the greenhouse, we have a UV/V is spectrophotometer, an FTIR, and multiple other pieces of equipment."
"We have been told that every effort has been made during construction to assure that the greenhouse will not leak," McGill said. Waterlines are not a novel concept for a science building. In addition to the normal waterlines required in a building, lab rooms are equipped with additional tab and distilled water pipes.
"Water lines of any sort do occasionally break," McGill said. "They have broken in the past, and I assume they will continue to break in the future. However, we have been assured that should a leak occur above our lab, the university will do everything in its power to correct the problem quickly and to replace any equipment that might be damaged."