Artists consider the figure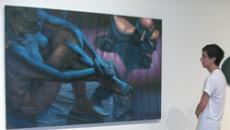 Body parts line the walls of the Fine Art Center's main gallery in erotic and traditional nude poses; green breasts, orange cartoonish torsos and paint-splattered faces all combine to form "The Figure Considered," the first exhibit of the semester featuring a collection of works from six regional artists.
Two years in the making, The "Figure" exhibit was originally scheduled to open at N.K.U. in spring 2005, but a water leak postponed the show until now.
Artists Kevin T. Kelly, Yvonne Petkus, Steven Ziebarth, Byron
Williamson, Steven Labadessa and Ivan Fortushniak bring hugely
different styles to the exhibit, but Gallery Director David Knight
found a common thread between the works.
"This is a figurative exhibit," Knight said, "but each artist is
dealing with a social or political issue that they deal with more than
just the figure."
Post-pop artist Kelly of Covington, KY., has three paintings in the show. The Art Academy of Cincinnati graduate worked in New York City with pop artist Tom Wesselmann. Kelly's paintings are the most overtly sexual of the show. His corner of the gallery combines
brighter-than-life colors, blunt lines and idealized nudes in what he
describes as a "carnival atmosphere." Despite Kelly's edge, he isn't
worried about shocking NKU sensibilities.
"People either get it and dig it," he said at the artist's reception Aug. 24, "or they're repulsed by it. I hope it creates a dialogue. I make art not to shock, but because I feel it needs to be made."
Across the room, freshman graphic design major Kaylee Becker was fascinated by artist Labadessa's emotional, often brutal and sometimes animalistic portraits.
"They're very life-like, and they're very scary," she said, explaining the draw to Labadessa's work. "It's that sort of horror. They all show feelings that are very graphic."
While the collections don't share much in the way of theme or media, one thing can be said of all:
"These paintings don't sit there passively," Kelly remarked, "They demand your attention."
"The Figure Considered" will run in the Main Gallery through Sept. 22.