Week welcomes students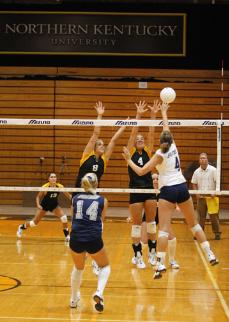 A carefree summer with endless muggy days has come to an end; but don't worry-parking and lecture nightmares have swooped in to take its place! In short, classes began this week.
This past weekend, an army of student organizations moved residents into their dorms; students got acquainted with their resident advisors and began to prepare for the academic long haul. However, students were still upbeat.
"I liked all the people that helped us move in," said Jessica Feldhaus, sophomore elementary education major. "It's a really nice campus and nice dorms."
Freshman Erica Conroy, graphic design major, likes the feeling of community living on campus gives. "I feel like I'm living in a community, because I get to go outside and there's something for everyone to do everyday."
NKU R.O.C.K.S. (Responsibility, Opportunity, Community, Knowledge and Success), a program for black incoming freshman, also helped in the transition for new residents.
The organization's informational sessions stretched from student panel discussions to Department of Public Safety and Health Services. Freshman R.O.C.K.S. student, Keith Justice said, "Personally, I think that NKU R.O.C.K.S. is a very helpful, informative and yet fun program. Not only did I learn about the school itself and what it offers, I also gained many friendships."
Continuing through Aug. 30, Student Life will be holding a Welcome Week full of activities for NKU students.