Record enrollment spills into programs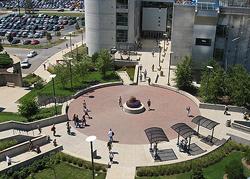 With Northern Kentucky University's record 14,200 student enrollment, comes record involvement in programs throughout the school.
NKU R.O.C.K.S., a mentoring program for first-time black freshmen, enrolled 70 students during its orientation held a week prior to school starting.
The program encourages students to participate in school and helps them transition from high school to college.
"People are hearing more about the program," said Cynthia Pinchback-Hines, associate dean of African-American Student Affairs and Ethnic Services. "When something is good, people want to be a part of it."
She also credits outreach programs and large enrollment as key factors in the program's success.
NKU's Honors Program also experienced an increase in enrollment this year.
The Honors Program is a minor designed for students with high ACT scores. Small classes provide students with a closer student/professor relationship and enhance the learning process. Topics offered for study are interdisciplinary to help broaden the education of any major in the university.
With the record enrollment, the Honors Program is experiencing a 20 percent increase in first year students.
"(The increase) is in part a reflection of selective admissions," said Tom Zaniello, Honors Program director. "I think we are also doing a better job retaining students and leading them to complete the honors minor."
Courtney Adams will be among the 165 incoming students who will minor in honors. With a major in psychology, she is planning on post-bachelors studies.
"The Honors Program will look good on scholarship applications for graduate school," Adams said.
She also likes the opportunity to work close with professors and the "family feel" that was relayed to her at freshman orientation.
To accommodate the growing number of students, the program is offering more classes as opposed to expanding class sizes.
"The class size of 15 or 16 students per faculty member remains the same," Zaniello said. "Only under special circumstances we go to 17 or 18. We endeavor to work smarter but we are certainly working more."