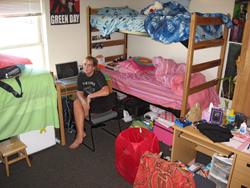 When people think of college dorms, they think of small beds, cramped rooms and using a hall bathroom, but for 18 students, moving to college was a little different.
Queen-sized beds, a maid service and a free shuttle to and from campus greeted the Northern Kentucky University students who are spending their first few weeks at the Country Inn ' Suites in Wilder, Ky.
In addition to the 18 at the hotel, 25 rooms that originally housed two students have been upped to having three. University Suites rooms and a few Residential Assistant rooms in Kentucky Hall are temporarily housing the 25 students on campus, according to University Housing Director Matt Brown.
Though Brown limited the number of returning students to campus to 500 last spring, the largest number of first-time freshmen applied for housing, and he had to turn many local students away. If students were from Kenton, Boone, Campbell, Hamilton or Clermont counties, they were denied residency after May 1. But Brown guaranteed a bed for first-time freshmen who applied for housing before May 1.
"This has been one of the most agonizing decision I've made in the three years I've been here," he said.
During the summer, Brown ordered 25 extra beds, desks and chairs for the extra students to be "triple-bunked" on campus, which used about $12,000 from University Housing's operating budget.
The furniture purchases and hotel costs, which will be at least $13,000 for the first weeks of school, were not budgeted for the school year, but Brown said the occupancy increase should help with the costs.
Students were assigned to the hotel rather than being triple-bunked on campus because additional furniture orders were not placed with enough time for delivery before school began.
"I'm sorry for the inconvenience," Brown said. "I wish we had enough bed space to keep everyone on campus."
Brown anticipates enough students will cancel contracts or move off campus, which will make room for the overflow students.
Next week, Brown plans to assess the number of vacancies on campus and begin moving the students from the hotel to campus Aug. 30 and by Friday all students in the hotel must check out if the hotel. Until then, he's relying on patience from students and parents.
Students who are triple-bunked are paying a reduced housing price and will share phone and Internet lines with other students in their suite.
"This is a temporary assignment. I'm very confident we're going to have space," Brown said.
If not enough vacancies are available by September, Brown said University Housing will begin exploring options such as buying upperclassmen out of their housing contracts or making triple-bunked rooms permanent.
A new residential building is being discussed, but Brown could not comment on its progress.
"I hope we won't have to do this again," Brown said.