Jacobsen apologizes, is pulled from classes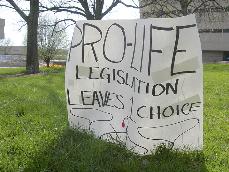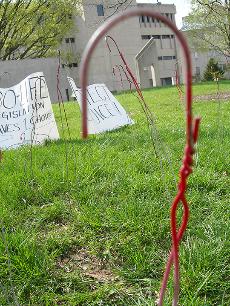 A pro-choice poster sits on the grass near the University Plaza. This was one of two posters on the grass in support of pro-choice April 16. Wire hangers with painted red tips accompanied the posters. The posters and hangers were removed April 17.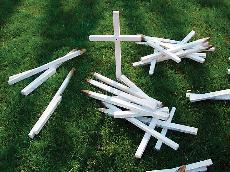 The Northern Kentucky University professor responsible for dismantling an anti-abortion display April 12 has stopped talking to the media and has been placed on administrative leave.
Dr. Sally Jacobsen returned The Northerner's calls Tuesday evening and said she has been advised by her attorney not to grant any more interviews. She directed further inquiries to her attorney, Margo Grubbs of Grubbs Law Firm in Covington, Ky.
However, in an e-mail dated April 18, Jacobsen wrote to students whom she invited to join the demonstration. "I want to do everything I can to keep any of you from being specifically named," she said. "And I am very sorry I got you involved in this."
Jacobsen also apologized in a television interview. She expressed her regret for including students and voiced her concern for the welfare of those students.
In an online report released Thursday evening, The Northerner reported Jacobsen, along with approximately 10 students from her Studies of Contemporary British Literature class, removed 400 white crosses from the hill in front of the Fine Arts Building. Those involved knocked the crosses over before throwing them in trash cans around the plaza.
Jacobsen urged students to spread the crosses around the plaza to "make it harder" to get them back.
Few have publicly backed Jacobsen, but NKU President James Votruba said that he has received e-mails from former students who have told him how important Jacobsen was to them. "She's been very important to many students on this campus," he said. "You don't judge a career on a single incident in the last two weeks. You don't judge Sally or anyone else like that." Votruba also said he understood "we all have moments in our lives that we'd like to replay."
In the April 18 e-mail sent to students involved, Jacobsen outlined the class procedure for the rest of the semester and encouraged students to "stay away from LA 517," which is her office. She also gave the students legal advice. "