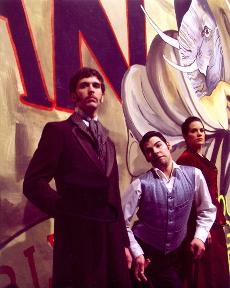 John West, Roderick Justice and Denise Devlin
Northern Kentucky University Department of Theatre's latest production amazingly portrays a morbid setting full of dark characters who all revolve around the sad life of the once lived John Merrick, in "The Elephant Man." The cast in this performance truly looked into the lives of their characters to portray this story, especially Roderick Justice, who plays the Elephant Man.
Director Ken Jones decided not to use any makeup to distort the figure of Justice. Through amazing acting skills, Justice remains in a character of comedic relief and physical horror that make the audience believe he is the Elephant Man.
"The Elephant Man" opened in the NKU Corbett Theatre April 13 and will be playing until April 23. The show is a reproduction of the original Tony Award-winning play "Elephant Man" by Bernard Pomerance. The production is a mixture of comedy and drama set around London, England, from 1884 to 1890.
The setting begins with a mixture of characters and music in a carnival where Merrick is the main part of a freak show. Dr. Frederick Treves, played by John West, pays to look at the disfigured Merrick. After being horrified by the sight, Treves urges the carnival keeper to allow him to perform research on Merrick.
Abandoned and sent away from the carnival, Merrick makes his way to Treves and eventually finds a home with him. Treves studies Merrick's condition and attempts to have a female nurse interact with Merrick but finds little success due to his physical appearance.
Finally Treves hires an actress, Mrs. Kendal, played by Denise Devlin, to talk with Merrick. She to tries to flee because she is frightened of his appearance. However, after talking with Merrick, she develops a friendship with him and becomes a regular woman in his life.
As the time passes Kendal helps Merrick's outstanding intelligence shine. He wins over the friendship of many higher officials and townspeople. His mind, however, continues to spin because he cannot have and do all the things he would like, such as to see the pure flesh of a woman.
With much passion and understanding, Kendal feels sympathy for Merrick and reveals her beautiful self to him on stage, only to be caught by Treves. Ashamed of her behavior, Kendal flees and never returns.
After Kendal's abandons him, Merrick slowly starts to decline in his will to live and his fate seems bleak.
As Merrick clings to religion, Treves continues trying to find a solution to Merrick's illness. However it may be too late for Merrick.
The cast of characters, setting, music and costume and lighting design are all key components that made this show blend together in an outstanding performance that won't be forgotten.