CRC to reopen after flood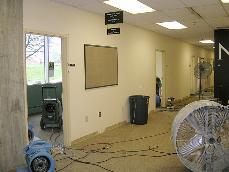 Audrey Kunkel/Photographer
A water main broke and flooded the Northern Kentucky University Campus Recreation Center (CRC) on the first floor of Albright Health Center in the early morning, April 14, causing damage and forcing faculty to relocate classes and their offices.
A subcontractor was digging during construction of the new Student Union when he a accidentally hit a water main around 1:30 a.m. April 14, CRC director Steve Tribble said.
The contractor's insurance company is paying for a restoration crew and Tribble said the faculty should be back in their offices April 19 or 20.
According to Tribble, there was little damage after the several inches of water was pumped out, but the inconvenience was significant.
The office complex was flooded, and faculty had to move their desks and equipment into a large multipurpose room.
"A little bit of water can do a lot of damage, but we're not looking too bad,"
Tribble said. "The hardwood floors are fine and we might not even have to replace any carpet. We had 16 computers in our office but only one was damaged." Tribble also said the cardio equipment in the exercise room is fine.
"It was bizarre," faculty member Wiley Piazza said. "There were a couple inches of water on the floor and anything sitting on the floor was ruined. And you know (instructors) don't keep everything on the desk. Luckily what I had on the floor was from past classes."