The Lions Rampant wins battle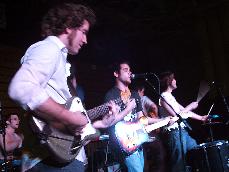 Nicole Jones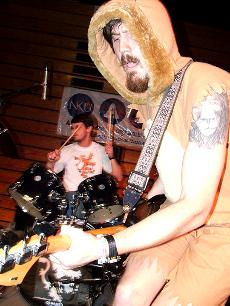 Nicole Jones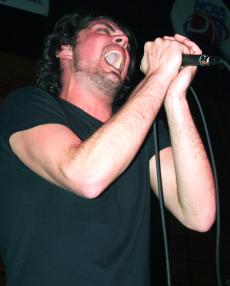 Nicole Jones
Northern Kentucky University's Battle of the Bands featured a wide range of musical artists April 10. The night included 15-minute performances from six bands and 2005's winner Last-n-Line opened the event.
But only one of those six competing bands took home the cash.
A first place prize of $500 was on the line. After all the audience's votes had been counted, The Lions Rampant came out victorious.
Kicks of Passion received second place while Zombie Congress came in third. Other performances included bands Burnside, Verbal Scope and Yuel Brenna.
Need to know more about the three most-popular bands? Here's an in-depth look:
The Lions Rampant
An intriguing mix of blues and rock, The Lions Rampant's sizzling guitar riffs and inspired vocals burn through the air. With a sound comparable to The White Stripes and The John Spencer Blues Explosion, it effectively mixes garage band edge with melodic blues beats.
"We're blues-infused, garage-brewed rock 'n' roll," said lead singer Stuart MacKenzie.
Playing in nothing but the fur of its lion costumes, the band features a unique blend of guitar solos and strong vocals. MacKenzie, along with bassist Paul Bunyan, and drummer Alex Brauer are planning to produce a five-song LP with the prize money.
The Kicks of Passion
With a wide assortment of costumes and more energy than a 12 year old without Ritalin, The Kicks of Passion's style of rock is all its own. Members Matt Baker (guitar, vocals), Will Talbert (percussion), Rich Shivener (guitar, keyboards), Nick Wagner (drums), and Nick Vogelpohl (bass) describe their music as mustache rock mixed with pyrotechnic guitar solos. The Kicks of Passion combines ripping guitars with light-hearted lyrics – not to mention the cowbell – and its own personal choreography show.
"We're like LCD Soundsystem, Jimmy Buffet and Toby Keith combined," said lead guitar and vocalist Matt Business.
Songs "Disco Space Label" and "Gary Busey Blues" created an atmosphere where the audience just doesn't watch the show; they become a part of it.
Zombie Congress
The deep sounds of Alice in Chains can be heard in the vocals and guitar riffs of Zombie Congress. Featuring vocals reminiscent of pre-heroined-out Layne Staley and guitar riffs similar to Jerry Cantrell, Zombie Congress features a loud sound that resonates against the walls of any club.
The song "Osmosis" best exemplifies the strong vocals of lead singer Chris Adams and Gabe Zia's screeching guitar. Other band members include drummer Chris Alley and bassist David Abbott.