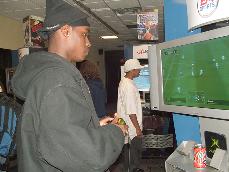 Nicole Jones
Students who hang out in the University Center TV Lounge grab a seat in front of the giant flat-screen television (of course), shoot a game of pool, or battle it out in ping pong.
However, those activities weren't available one afternoon this week – but the entertainment in the lounge was far from non-existent.
As part of its "fun-filled week of activities," the Activities Programming Board brought the Game Live on Xbox 360 College Tour to Northern Kentucky University, April 11, for its Rites of Spring 2006.
"I think most students are into (video) games," said Stephanie McGoldrick, APB's advisor. "It's something our school has never done before."
Volunteers of the board and Xbox staffers powered up 36 televisions with new Xbox 360 games for students to play; some of the games included "Arena Football," "Burnout Revenge" and "50 Cent: Bulletproof."
Freshman Dominic Lewis owns an original Xbox and said he only played an Xbox 360 twice. While on a break, he spent a considerable amount of time playing "Top Spin 2."
"I've never really played tennis games," he said," but this seems kind of real."
Besides the Xbox video-game bonanza, APB will host more activities this week for Rites of Spring.
The board created Wacky Wednesday, for April 12, a day where participating students, well, dress unconventionally; the Freestyle Extravaganza, April 13 is a cash-prize, rapping contest for students; and on Free Food Friday, April 14, the board will serve chicken jambalaya and seafood gumbo on the University Center plaza.