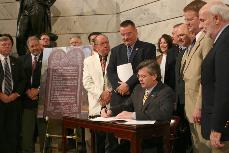 Photo by John Whitlock/Kentucky Press Association
With the signing of a bill that allows historical documents to be displayed on public grounds, the Ten Commandments could soon return to the Kentucky State Capitol.
Surrounded by a score of Democrats and Republican lawmakers in the Capitol Rotunda April 10, Gov. Ernie Fletcher signed a bill that paves the way for a six-foot tall monument to return.
At the ceremony, several county officials who have recently been embroiled in Ten Commandment litigation accompanied Fletcher.
Pulaski County Judge-Executive Darrell BeShears, whose county has been embroiled in Ten Commandments lawsuit for more than two years, said the general assembly and Fletcher acted in the best interest of the commonwealth with their support of the monument.
"There is no law that says you have to look at the Ten Commandments," BeShears said. "You don't have to be religious to appreciate what they say."
Fletcher said although the religious significance of the Ten Commandments couldn't be denied, the document also represents an important part of American history.
"The Ten Commandments do represent a sacred religious text. We all acknowledge that," Fletcher said. "But we cannot deny the commandments' significant impact on culture, history and the laws of Kentucky, as well as the laws of the United States."
Although there is no timetable for the monument to be returned, Fletcher said it would be accompanied by separate display outlining the history of the marker itself.
In 1971, The Fraternal Order of Eagles gave the monument to the state but it was removed in 1984 for construction.
When plans were announced to put the Ten Commandments monument back up in 2000, the American Civil Liberties Union opposed the move and filed a lawsuit to block the move, and said the display promoted religion. The ACLU won the suit and the monument was given back the Eagles. The granite monument has been on display at the group's headquarters in Hopkinsville, Ky., since the ruling.
Earlier in this year's session, the general assembly passed a bill, sponsored by Rick Nelson, D-Middlesboro, with 50 co-sponsors who gave local governments permission to post displays of the commandments in county courthouses and other public buildings.
Fletcher said the monument could be erected near the capitol's floral clock display.