Suave dancer 'takes the lead' in new movie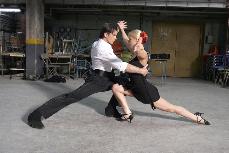 KRT
Antonio Banderas has boudoir eyes, flamenco hips and the attitude that anyone can make it if he knows how to shake it. In "Take the Lead" this combination is so potent that it should be a controlled substance.
Banderas triumphs as inspirational teacher Pierre Dulaine in this dramatized biography of the life force who brought ballroom dancing to New York City schools (see "Mad Hot Ballroom").
He's the Gershwin-loving, bike-riding, quickstep master who models discipline, self-control and razzle-dazzle for a ragtag collection of South Bronx misfits in detention. And he becomes the de facto parent for students whose parents can't be there for them.
It's Old School-meets-New School After School. It's "To Sir, With Tango." It's a ballroom/hip-hop mash-up that, although at times discordant and at all times familiar, moves with Banderas' brio and bounce.
As Dulaine, Banderas is so ridiculously debonair that he charms his hard-luck students as much with his moves as his message, cribbed from Woody Allen, that 99 percent of success in life is about showing up.
In her feature debut, director Liz Friedlander brings the whirling camera moves and lightning edits characteristic of music-videos, and may be representative of her work for Babyface and R.E.M. This energy infuses the early sequences of the film written by Dianne Houston.
Yet the film juggles so many storylines that it's no surprise when some of them crash. These include scenes with compelling actors Rob Brown and Yaya DaCosta, respectively, as a student with alcoholic parents and one with a prostitute mother.
Yes, the film is pretty predictable. Yes, it's too long by 20 minutes. Yes, it purveys every cliche inherent to the teacher/student inspirational. But as we all know, cliches are cliches because there's a kernel of truth within them.