Norse take two of four over weekend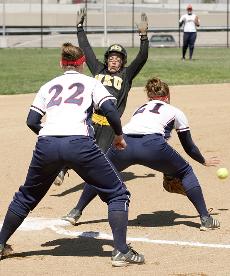 Tim Downer
Senior Ricki Rothbauer smashed a two-out line shot to left field to defeat Southern Illinois University Edwardsville April 8. The first three innings were scoreless until Rachele Vogelpohl got a home run, causing Northern Kentucky University to take the lead 1-0.
SIUE came right back out and tied the score after Holly Neuerburg drove in a run. SIUE pitcher Sabra McCune managed to get two outs in the bottom of the seventh, but then hit Kara Lorenz with a pitch.
A passed ball allowed Lorenz to advance to second and Rothbauer's double sealed the win 2-1. In the nightcap, the Cougars took the lead by scoring one run in the second and one in the fourth.
In the bottom of the sixth, the Norse loaded up the bases with no outs, then Amanda Smith hit a hard grounder down the third base line picking up two RBIs. The game came down to the seventh inning, but when pinch-runner Katy Biggs was in the process of stealing third, a throwing error by NKU catcher Sarah King caused SIUE to take the win 3-2.
April 9, the first game looked promising for the Norse, but the University of Southern Indiana players came out strong late in the game.
In the first inning, USI scored one run, but NKU came back and took the lead 4-1 with a double from Vogelpohl and a triple from Smith. The Norse held on strong to the lead until USI's Kristin Eickholt's three-run homer tied the game in the fifth inning.
From there, the Screaming Eagles pounded away scoring four more runs in the sixth. NKU couldn't fight back, so USI took the victory 8-4. In the nightcap, it was all about the home runs. King started off the game with a two-run homer, but in the second inning, NKU's Lindsay McNaughton also hit a two-run homer to tie the score 2-2.
It wasn't until the sixth inning when Freshman Katy-Beth Coode smashed her first career home run over the right field fence to snap the tie and take the lead. The Norse held on, winning the game 3-2.
"It felt good to pick my team up. It was a good time to get my first homerun," Coode said.
NKU's record is now 23-13 and 7-7 in the Great Lakes Valley Conference.