In the hot seat with Tim Downer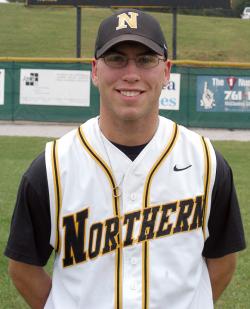 Tim Downer
Molly Hutson is the head athletic trainer at Northern Kentucky University. Tim Downer asked her some questions this week.
Tim: Molly, when did you become NKU head athletic trainer?
Molly: This is my first year as the head athletic trainer, but my fifth year at NKU.
Tim: What kind of qualifications do you need to achieve such a position?
Molly: You have to be a certified athletic trainer by the National Athletic Trainer Association Board of Certification, have a master's degree and two years experience in a college setting.
Tim: Did you always want to be an athletic trainer?
Molly: Actually no. I started college as an art education major and then switched after my freshman year.
Tim: Which of NKU's 13 sports programs offers you the most challenges?
Molly: Every sport has its own challenges, but all the teams are fairly easy to work with. You just have to watch out on game day.
Tim: Molly, what sport do you like the best at NKU?
Molly: I really don't have a favorite; each sport has a different personality. This is half the fun of my job. No day is ever the same in the athletic training room.
Tim: How good is NKU's sports medicine program compared to the other GLVC schools?
Molly: I think we are one of the best. We are one of two schools that travel to away games with not only basketball but also baseball, softball and volleyball; and we also cover all home competitions for all sports.
Tim: Do you aspire to be a head athletic trainer at a Division 1 school someday?
Molly: No, I'm very happy at NKU and maybe someday we will be D1, but I like the competitiveness, not the level.
Tim: How many rolls of white athletic tape do you go through in a year?
Molly: We order 100 cases of tape a year. There are 36 rolls per case, so we use 3,600 rolls. It would be a lot more if we had football.
Tim: What has been the most serious injury you have witnessed as an athletic trainer here at NKU?
Molly: I think my first year at NKU two soccer players went up for a head ball and both were knocked unconscious.
Tim: Almost two months ago I saw you treating President James Votruba for an injury. Was this the most important person at NKU you have treated to this day?
Molly: Everyone we treat is important, you can't differentiate, but yes I think so.
Tim: Does your department do any community-based volunteer programs?
Molly: The athletic department is always involved in many volunteer programs, but the athletic training students are collecting canned goods right now for charity.