Students spend break educating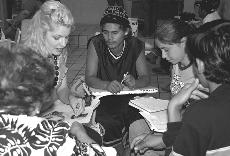 Photo contributed by Cynthia Pinchback-Hines
Five Northern Kentucky University students, Ashley Long, Jennifer Lamb, Liz Osborne, Kelli Schultz and Maria Sleder along with faculty Leo Calderon, director of Latino Student Affairs, and Cynthia Pinchback-Hines, associate dean of African-American Student Affairs and Ethnic Services, traveled to Mexico for one week on an alternative Spring Break to help teach residents of Mexico computer skills as well as to assist in teaching English as Second Language classes.
"I hope and pray I never go back the same; I see a day when this will all be changed," sang songwriter, philanthropist and graduate student from North Texas University Michael Romero to students of NKU. While Romero was passionately strumming his guitar on the rooftop of a small schoolhouse in Mazamitla, Jalisco, Mexico, the five volunteers from NKU knew little about what was about to be in store for them. "It was such a moving experience to travel to a poverty-stricken area where the graduation rate at the local high school was only 3 percent. It is such a stark contrast to what we are use to here in the United States," said junior political science major Maria Sleder. Along with teaching classes, the students and faculty made a combined effort in building trust with the students and brainstorming solutions on ways the community members can better themselves The group visited impoverished populations in communities such as Flor Del Compo and San Martin. As the students encompassed a new territory, they began to see a new perspective on poverty. "I always had believed that poverty was something that was a chosen path or was something that was your fault," said Jennifer Lamb, junior math major. "After seeing the kids from San Martin, I realized that those suffering from poverty are not always the source, but instead the victim." The group of NKU students, in partnership with the National Underground Railroad Freedom Center, traveled to Mexico and was hosted by Professor Sil Florez and four graduate students, all from the University of North Texas. With their help, the small group from NKU set up 20 computers for a technology center in Mazamitla. The new center was a big deal to the small town. The students said the Jalisco secretary of education attended the opening ceremony. "I had no idea that what we were doing for this little community was such a big deal," said junior Spanish major Liz Osborne. "While sitting through the ceremony with the secretary of education, I thought, 'Wow! We really are making a difference here.'" After experiencing the poverty, the strong family bonds, and the hospitality found in Mazamitla, Mexico, the students said they returned to NKU with a new perspective on life and a desire to return to Mexico. Junior marketing major Kelli Schultz said she already misses the excitement of helping the community. "I would say that our trip to Mazamitla was a once in a lifetime experience, but the motivation we all encountered after experiencing the culture and meeting the people drives us to return," she said.
Jennifer Lamb, Liz Osborne, Kelli Schultz and Maria Sleder contributed to this article.