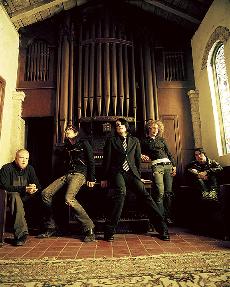 Photo courtesy of Warner Bros. Records
It's a classic tale: band gets together, band gets a gimmick, band makes it big and band does anything to stay big.
Such is the story of My Chemical Romance, and this New Jersey quintet is using its latest release "Life on the Murder Scene" as said fame maintainer. This live compact disc and two DVD set may seem like the greatest thing since sliced throats to the gothic My Chemical Romance fanatic, but the rest of us know it is nothing more than a marketing ploy to keep the band in the limelight while it takes its time making a follow up to its major label debut.
The main mistake Gerard Way (vocals) and friends make with "Murder Scene" is releasing a live CD in the first place. Permanently recording flawed guitar parts and off-key vocals, then distributing such noise internationally, is not the best way to impress listeners.
Their second mistake is content. If a band does decide to break the "If you don't play well live, don't release a live album" rule, the CD should at least include two or more previously unreleased tracks so the terrible album in question isn't simply a bad live recreation of the band's other songs.
While the two DVDs are a huge step up from the live CD, they are still mediocre by definition. The first of the two DVDs is a video diary, chronicling the whole entire story of My Chem; that is, for two hours, the band talks about itself, sometimes telling the same story multiple times, discussing how it saves lives and has great fashion sense. The second DVD is a two-hour compilation of live performances (many of which are the same ones used for the CD), TV appearances and music videos.
Needless to say, My Chem knows how to slam a point home again and again, and yet again. Only the most obsessed My Chem fan could possibly have the patience and desire to sift through the amount of footage provided, and enjoy the time it takes to do so. That is basically the point, though, as My Chem writes in the liner notes that this release is for the fans. For everyone else, however, My Chem needs to forget about costumes and eyeliner for a second and focus on making music. The band may know how to rock performance art, but it needs to learn how to rock.