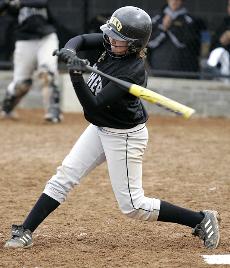 Tim Downer/Photographer
Northern Kentucky University traveled to Rockhurst University April 1 where they split with the Great Lakes Valley Conference newcomers.
In the opener, the Norse rallied in the seventh inning, but couldn't get the win.
Within the first two innings, Lacey Johnson and Kourtney Burnett rounded up five runs for the Hawks.
In the top of the third, Ricki Rothbauer had an RBI-single to bring the score to 5-1. NKU finally decided to make some noise when it came to the seventh inning.
Pitcher Amanda Smith led of the rally with a single, then Katy-Beth Coode doubled to right field and scored the runner from first base. After Kara Lorenz doubled, Heather Cotner hit a two-run single.
The Norse managed to load the bases, but couldn't get the extra run to tie the game. Rockhurst took the win 5-4.
In the nightcap, the Norse took the lead in the third inning, but Burnett came back with a three-run homer, allowing the Hawks to lead 3-1.
In the fifth, NKU tied the game 3-3 with RBI hits from Smith and Lorenz. Shatona Campbell then had an RBI hit in the sixth to take to lead. Rockhurst attempted to come back, but NKU held on to the lead winning 4-3.
Smith threw a four-hit shutout against the University of Missouri-Rolla in the opener April 2. A throwing error on a steal allowed the Norse to take the lead in the first inning.
NKU scored another run in the fifth, then sealed the win in the sixth. Sarah King and Cotner both had two RBIs to help take the win 6-0.
In the nightcap, the Norse struggled as UMR came out swinging away. Kandi Wieberg started the Miners' hitting parade with a solo homerun.
In the top of the second, Lorenz hit an RBI-single to bring the score to 2-1. NKU was down one run, but when the Miners came back up to bat, they continued to score and held NKU 2 runs.
In the second inning, UMR scored four times and in the bottom of the fourth. The Miners' scored four more time,s including a two-run homer.
The Norse was losing 10-2. After a one hour and 47 minute rain delay, UMR scored three more runs and took the victory 13-2 over NKU in five innings.
The Norse is now 21-11 and 5-5 in the GLVC. NKU will take on Southern Illinois University Edwardsville at home, April 8 at noon.