NKU baseball team enjoying success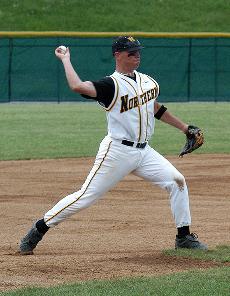 Tim Downer/Photographer
Tuesday March 28
Kory Lonergan collected four hits and four runs batted in Tuesday afternoon as the Northern Kentucky University baseball team swept a doubleheader at Southern Indiana.
Lonergan went 2-for-4 and scored twice as NKU won the opener, 8-4. The Norse completed the sweep by posting a 5-1 victory in the nightcap as Lonergan was 2-for-5 with three RBI.
Matt Wagers and Conor McGeehan each drove in two runs in the opener for NKU, which improved to 18-9-1 overall. The Norse are 16-5-1 in the Great Lakes Valley Conference.
NKU also gained sole possession of first place in the GLVC when Quincy was swept at Southern Illinois at Edwardsville. Southern Indiana dropped to 11-13 overall, 8-12 in the GLVC.
Chris Nann collected three hits, including a home run, in the first game. Jim Volpe added two hits and scored two runs for NKU in the opener, while Josh Bruns notched the win by going six innings and scattering eight hits.
In the nightcap, Matt Winterhalter struck out six batters in seven innings as NKU coasted to the sweep. The Norse struck for three runs in the third inning and added two insurance scores in the ninth.
Brian DeCarlo was 2-for-4 with two runs scored, while Jon Back scored twice. Kenny Wilson picked up two stolen bases for the Norse and has swiped a team-leading 17 bases this season.
Saturday April 1
Matt Marksbury picked up a complete-game victory in the opener as Northern Kentucky University defeated Rockhurst, 4-2, on Sunday.
Marksbury, a junior right-hander, scattered nine hits and did not walk a batter to improve to 3-1 this season. He allowed just one earned run and finished with three strikeouts.
Jim Volpe was 3-for-3 for the Norse, and Chris Nann added two hits. NKU built a 3-0 lead and overcame three errors to post the win.
In the nightcap, Rockhurst rallied from a 4-1 deficit to knock off NKU, 8-5. Jon Back led the Norse with three hits, while Chris Wilson knocked in a pair of runs.
NKU, ranked 30th nationally in Collegiate Baseball Newspaper's NCAA Division II poll, is 21-10-1 overall. The Norse won three of four games during the weekend series at Rockhurst and lead the Great Lakes Valley Conference with a 19-6-1 record.
Rockhurst is 17-13 overall, 13-9 in the GLVC.
NKU will play host to Southern Indiana at noon Wednesday at Champion Window Field in Florence, Ky.
The NKU baseball program enters that doubleheader with 998 all-time victories in 35 seasons of competition, and the Norse can reach the 1,000-win plateau with a sweep.
*Story provided by NKU's sports information department.