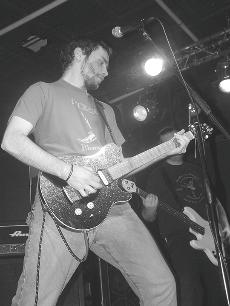 Photo contributed by Adam Rosing
Six bands and one comedian play the Mad Hatter, a rock 'n' roll bar in Covington, April 7. Their styles may differ – from bluegrass to garage rock to sardonic comedy – but all have at least one characteristic in common: They're rocking a benefit concert – and a Northern Kentucky University class is responsible for the event.
Professor Mari York required the students of her Women's Studies 494 Activism class to create activist projects this semester. York also required the class to organize the benefit concert separately from their said group projects.
"My activism students did all the work," York said. "They found the guest bands, they booked the (venue), they made the fliers, they choose the non-profit (organizations); they did everything. I'm really impressed with them."
Students Kelly Cornett and Katie Kloeker took the lead in organizing the benefit, York said, "because they're very into the local music scene and what's going on with the clubs."
According to York, the proceeds of the concert benefit four non-profit organizations: Women's Crisis Center, The Native American Roving Museum, Books for Prisoner, and Carocole, which is an AIDS hospice.
When asked to hold the concert, owner of the Mad Hatter Frank Hulefeld readily agreed.
"When we ever we get a chance to do a benefit, you get a chance to help people out. It's still cool to see people get excited," he said.
Even though the participating artists of the benefit differ in sound, the class intended for that assorted lineup to play.
"That was part of the purpose