Teen flick puts spin on the Bard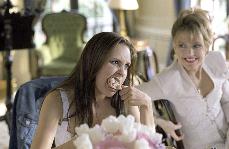 KRT
If predictable plot twists, gushy teens in love and nothing but young bodies running around are things you look for in a movie, then "She's the Man" is the right one for you. This PG-13 flick is a youthful story that movie-goers are better off waiting to rent.
As an updated looks at Shakespeare's "Twelfth Night," "She's the Man" stars Amanda Bynes of Nickelodeon fame who plays the main character, Viola, a high schooler who loves to play soccer.
Two weeks before her senior year, Viola's soccer team gets cut from her school. Regardless of her talent, the boys' soccer coach refuses to let Viola play.
Willing to do anything to get on the soccer team, Viola decides to disguise herself as her twin brother and try out for the his school's team.
While her brother, Sebastian decides to ditch school and tour with his band in Europe for two weeks, Viola sneaks into his boarding school disguised as Sebastian. She tries out and barely makes the boy's soccer team.
Viola finds herself in trouble when her lab partner, the hottest girl in school, Olivia, finds Viola to be sensitive and irresistible.
At the same time, Viola falls in love with her guy roommate and friend, Duke, who helps her improve her soccer game. Even though Duke is crazy about Olivia and really thinks Viola is Sebastian.
Viola doesn't realize, but her brother Sebastian, who is oblivious to Viola's transformation, comes home a day early-right before the big game.
This movie is a cross between "Ladybugs" and "Mrs. Doubtfire." Much like those movies, "She's the Man" has many scenes were Viola avoids blowing her cover in order to make it to the big soccer game. Can she prove to everyone that she's good enough to play with the boys?
This movie is full of fast pace action, beautiful characters and great music. With a little over the top acting "She's the Man" is entertaining yet a bit predictable.