Students attend Arab women's conference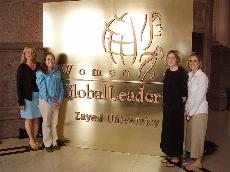 Sue Meagher, Lauren Petrzilka, Melissa Trembach, Holly Abner.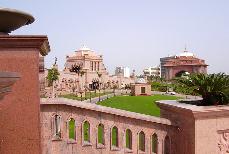 Photo contributed by Lauren Petrzilka
From March 8 through the 15, four female students and a professor were in Abu Dhabi, United Arab Emirates for a global women's leadership conference. The conference, hosted by Zayed University, brought together women from more than 70 countries.
Daytime conference events were held at the Emirates Palace. Evening events included a welcome reception at Zayed University, a gala dinner and a desert barbecue that included local cuisine, camel rides, henna tattoos, cultural displays, performances and a spectacular laser and firework display. The following is a general account of the trip from Lauren Petrzilka, a junior at Northern Kentucky University:
Night 1/Day 1
After traveling for 30 hours, we were exhausted. We arrived at 1:30 a.m., unpacked and went in search of sustenance. Surprisingly, right across the street from our hotel was a KFC; the menu was much like the American menu. However, the meals came with a bun, not a biscuit.
Later that day, we went in search of local food again, particularly a sandwich called "schwerma." We learned schwerma was not served until dinner and settled for Indian food instead.
After we ate, we decided to visit the hotel beach and ventured off to enjoy some time in the sun.
When we left the beach, some of us went to the Abu Dhabi Mall while others walked back to the hotel, stopping along the way in local grocery stores and shops selling hookahs and jewelry.
Afterwards, we had a late night meal at a McDonalds. Like KFC, McDonalds had a menu reflecting its American counterpart, with the exception of a McArabia sandwich. It was like a gyro, except it had either lamb or chicken meat in a patty form. I found it delicious!
Day 2
We explored a Dinhar Palace (similar to a dollar store), local carpet shops and clothes stores. Then, we walked down the Corniche, a newly developed walkway, and series of parks along the Dhow Harbor, a branch off of the Persian Sea.
We walked through the city on the way back to the hotel and went through the gold market area and saw both modern buildings and more traditional, older buildings. We were all somewhat surprised at how modern the city looked.
That evening, we ate at a vegetarian Indian restaurant and had a wonderful meal for three for around $15. Another excellent meal! We also went to a mall that primarily sold textiles sewn by tailors. An interesting fact is most people have their own tailor rather than buying clothes off the rack.
Day 3
The first day of the conference, Zayed University transported us to the elaborate Emirates Palace. It was incredibly ornate and gorgeous.
We were greeted by students and escorted to a welcome reception with pastries, coffee and fresh mango, watermelon and orange juices.
The welcoming ceremony featured Mary Robinson, former president of Ireland, Her Majesty Queen Rania Al-Abdullah, Queen of the Hashemite Kingdom of Jordan, His Excellency Sheikh Nahayan the president of Zayed University and Her Excellency Sheikha Lubna Al-Qasimi, the UAE Minister of Economy.
The afternoon consisted of speakers that included the Lord Mayor of Wurzburg, Germany and journalist Linda Ellerbee. In the evening, we got to socialize and meet other delegates at a gala dinner.
Day 4
The second day of the conference, featured speakers were prominent women leaders in Middle East business and economics.
At lunch, our speaker was Judy Everett, head of Corporate Identity for Shell.
That night a desert barbecue was held where I had a great conversation with a student from the UAE discussing the different perceptions that people hold about Muslim women and the Islamic religion.
Day 5
The last day of the conference we opted for a tour of Dubai instead. We visited local cultural sites including the world's oldest mosque and a historical city in downtown Dubai.
We also visited a gold souk and spice souk, traditional markets. It was great fun to barter with the vendors.
We learned that 14 percent of the world's giant cranes are located in Dubai due to the city's increasing amount of commercial growth. On the way to and from Dubai, we saw camel farms on the sides of the road.
At the end of the tour, we went back to the hotel, packed and departed for the airport to head back home to the United States.
In conclusion, we had an amazing trip. We experienced a totally different culture, we tasted great food and learned about the multitude of ways women are impacting and changing the world. I highly recommend visiting the UAE. Attending the yearly conference was an experience I will never forget.