Softball team winning streak ends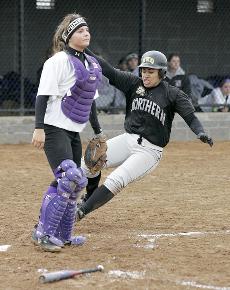 Tim Downer
The University of Indianapolis ended the Northern Kentucky University softball team's 14-game winning streak March 25. In the opener, the Norse took the Greyhounds in to eight innings.
The game remained scoreless until Indianapolis got one run in the top of the sixth, putting pressure on the Norse. Sarah King got up to bat with two outs, bottom of the seventh and Kara Lorenz on second base.
King hit a grounder to the shortstop, but an error on the throw allowed Lorenz to score and tie the game.
The Norse couldn't hold on when Beth Wendlinger's two-run double ended the game 3-1.
In the nightcap, Indianapolis started off scoring seven runs in the first inning. The Norse tried to hold on by scoring two runs in the second inning, one in the fourth and three in the sixth, but the Greyhounds kept pounding away, winning the game 12-6.
The Norse came out ready to play, facing Saint Joseph's College March 26. The two teams kept the score even until King had a solo home run in the fourth inning allowing NKU to lead 5-4.
In the top of the seventh, Cheryl Zakowski had an RBI single to tie the game and force extra innings. The Pumas scored four times in the 11 inning. When NKU got their turn at bat, they could only score one run, giving up the victory 9-6. The nightcap was a different story.
Saint Joseph's scored four runs by the top of the fourth, leading the Norse 4-0, but those would be the only runs freshman pitcher Candice White would allow them to score. In the bottom of the fourth, Cara Parker smashed a two-run homer which would start the rally for NKU.
Lorenz and Ricki Rothbauer both contributed to the fourth inning rally with RBI hits. This tied the game 4-4.
In the sixth inning, after the Norse scored five more runs, Rachele Vogelpohl hit a two-run homer, finishing the inning with seven runs. The Norse took the win 11-4.
NKU is 19-9 overall and 3-3 in the Great Lakes Valley Conference.