Sculpture unveiling brings 'bittersweet moment'
Amanda Joering
March 28, 2006
Hang on for a minute...we're trying to find some more stories you might like.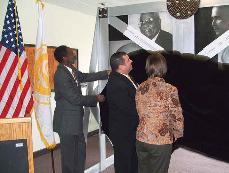 Nicole Jones
The Kentucky Civil Right Hall of Fame sculpture was unveiled in a "bittersweet moment for us here at the university," said President James Votruba.
The sculpture, unveiled March 23, was meant to honor local civil rights leaders and also to mourn a recently deceased Northern Kentucky University professor.
"Anne Braden will be missed at NKU, we had the good fortune to count her as one of us