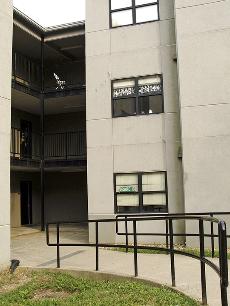 Nicole Jones
For the first time in Northern Kentucky University's history, more than 700 students have requested to remain living on campus, and as a result, more than 160 returning students have been placed on a waiting list for fall 2006.
University Housing decided last semester to limit for the first time the number of returning students who could live on campus, in order to guarantee rooms for first-time freshmen. University Housing Director Matt Brown predicted the waiting list would consist of fewer than 50 students.
Returning residents had two options for requesting to live on campus: squatting, which is keeping the same room, or choosing a different apartment. Students choosing to remain in the same room registered for housing Feb. 20 through 24, a week before students switching rooms.
"More students squatted than ever before," Brown said. "This is the highest number of returning students we've ever had."
In the first four hours of registration on Feb. 25, the first day returning students were able to choose a new room, all but two spaces filled.
NKU has 1,390 spaces total available for students to live on campus. Of these spaces, 550 have been reserved for returning students and about 100 are reserved for athletes, international students and scholarship students, leaving about 740 spaces for first time freshmen, Brown said.
"We have more students who want to live on campus than we have spaces," he said.
Brown also expects a waiting list of about 100 incoming freshmen. He said NKU guarantees housing for incoming freshmen who apply by May 1, the priority deadline. After this, the applicants are prioritized by geography, giving preference to applicants who live far away from campus.
For returning students who are on the waiting list, Brown said he expects some cancellations and hopes to move some people from the waiting list to the residence halls.
"If you're student number 166 on the list, I don't think you'll be getting a room," he said.
All students who submitted applications will by notified by May 1 as to whether their names have been transferred from the waiting list to a space on campus.
Brown said University Housing plans to keep limiting the number of returning students to 550. In order to help the students who will not be allowed to return to campus, Brown said he plans to organize an apartment fair to help the students become familiar with living opportunities surrounding campus.
According to Brown, returning students are more likely to find an apartment near campus and continue at NKU than a new student, who would be more likely to attend a different college if denied residency.
Though Brown said it's unfortunate that students will be refused, he said he sees this as an opportunity to show that more housing is needed.
Brown said he is "confident that we can fill another residence hall next year if we had one."
A new residence building is in the works and could be open in fall 2008, Brown said. For fall 2006, no changes will be made to try to accommodate more students, such as "tripling" rooms, which is placing three students in a room that was originally designed for two.
The students who will be returning in the fall can also expect about a 3 percent increase in housing and an undetermined increase in meal plan costs, Brown said. These increases are due to health care, utility and salary increases.
"Students get hit hard with tuition," he said. "My goal is to keep our rate increase around 3 percent."