Sculpture honors faculty member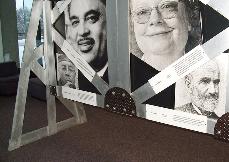 Nicole Jones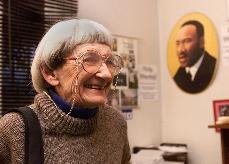 Photo courtesy of The Louisville Courier-Journal Keith Williams/Photographer
The Kentucky Civil Rights Hall of Fame is set to unveil the latest addition to its sculpture depicting Hall of Fame inductees.
The unveiling will take place at 11:30 a.m. March 23, in the third floor lobby of Northern Kentucky University's Lucas Administrative Center.
"This section of the sculpture is of special interest to NKU since it depicts Anne Braden, a recently deceased member of NKU's faculty," said NKU Director of Special Events Kathy Stewart. The sculpture is being dedicated in Braden's memory at the event.
Braden, whose life was described by Catherine Fosl's prize winning 2002 book "Subversive Southerner," fought for equality and civil rights.
"Braden was, and still is, an inspiration to everyone who believes in justice for all," said NKU freshman Eric Bruns.
The Kentucky Civil Rights Hall of Fame, in which Braden was inducted in 2001, was established in 2000 as a way to honor past leaders in the struggle for equality and justice.
A ceremony will surround the unveiling, including guest speakers and a reception following the presentation.
"The keynote speaker at the event will be the director of the NKU Institute of Freedom Studies, Dr. Prince Brown Jr.," Stewart said.
The ceremony will also include speeches from Judge Linda Strite Murnane and President James Votruba.
"I'm excited that NKU is hosting a ceremony honoring civil rights. Hopefully this washes away the turmoil of the protests we recently saw," Bruns said.
Bruns was quick to say, "It's not only the university's administration who are responsible for creating a diverse collegiate experience; students also have a hand in that."
Bruns believes this presentation is the perfect opportunity to help smooth the harsh words and actions of the recent protests on campus.
"The ceremony will be a great experience, hopefully a lot of students turn out," Bruns said. "This is a chance for students to show they also understand and respect history."
The sculpture, created by Lexington, Ky., artist Gary Bibbs, honors inductees into the Kentucky Civil Rights Hall of Fame.
The sculpture is broken up into sections, with each section honoring different civil rights activists.
The Kentucky Civil Rights Hall of Fame sculpture was created by the Kentucky Commission on Human Rights to present information on Hall of Fame inductees.
The ceremony and reception are free and open to the public.
The Kentucky Civil Rights Hall of Fame Sculpture will be housed in the Lucas Administrative Center lobby for about a year.