Tim Downer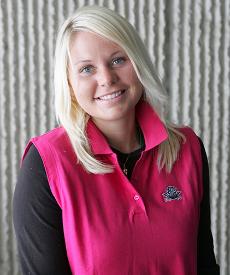 Tim Downer
Bianca Hutton is a junior from Helsinki, Finland, and member of the women's Northern Kentucky University golf team. This past weekend, she shot a closing round of 70 to win individual honors at the La Rosa Collegiate Cup played at Eagle Creek Country Club.
Tim: Bianca, You are from and still live in Finland. How in the world did you pick NKU from all of the other schools you could have chosen?
Bianca: When I lived in Brussels, Belgium, I met Kim Keyer-Scott who played for NKU and talked to Coach Landrum about me. I always wanted to play golf in the states and go to college here.
Tim: How many months of the year can you golf during the season in Finland?
Bianca: The season really only lasts from May to October.
Tim: Are your parents golfers and when did you first pick up a club?
Bianca: My parents and two brothers play golf. I started when we moved to Brussels at age 12.
Tim: Who is the most famous Finnish golfer on the LPGA or PGA tour past or present?
Bianca: Right now we have five women on the tour in Europe, but Minnea Blomqvist who is 19 plays here on the LPGA Tour. She's still young and has a bright future ahead of her.
Tim: Do they play golf in the snow in Finland? Have you ever?
Bianca: I only play golf in Finland during the summer. Some try to brave it and play in the cold but most stick to normal winter sports.
Tim: You had an excellent tournament this weekend at Eagle Creek. Did you make any mistakes during those rounds?
Bianca: Thank you. My first round was not the best, but on Sunday everything just worked out. Even the pros make mistakes. What makes a good round is the ability to manage around the mistakes you make and make the right decisions concerning course management.
Tim: Bianca, you shot a 2-under 70 Sunday. Do you ever break 70? And what has been your lowest score ever?
Bianca: This was the first time I shot under par in a college tournament and I feel like now that I've done it once I can do it again. Shooting under par was my goal for the season, now it's going to be posting a score in the 60s.
Tim: Does it bother you or your teammates that no one shows up to watch you play a golf match?
Bianca: It would be nice with some more support from the NKU student body. Very few even know that we have a women's golf team. It's mostly family and friends who show up – my sorority sisters (Delta Zeta) and some friends from Alpha Tau Omega Fraternity came to support me.
Tim: Bianca, would any of the NKU women golfers beat any of the NKU men golfers in a 18 hole match?
Bianca: You never know, with golf being the game it is. We play a lot of friendly matches when we practice together but we have some awesome men golfers who put up a very challenging match for us girls.
Tim: Do you aspire to become a professional golfer some day?
Bianca: I've been thinking about it, but it really depends on how I play this spring and during the summer. Starting out as a professional golfer can be difficult. You have to get the right contracts and sponsorships, and the competition is tough. I have a lot of work to do to reach the level the women play at on the LPGA.