In the hot seat with Tim Downer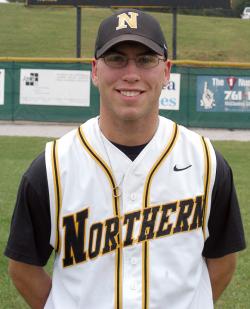 Tim Downer
Matt Marksbury, senior right handed pitcher and base running specialist is this week's guest on the 'Hot Seat.'
Tim: Matt, you scored the winning run in the bottom of the last inning against Grand Valley State on Sunday. How often in your career are you a pinch runner?
Matt: That was the first time in my college career that I pinch ran. I'm no John Back, a fast runner but I can move around the bases pretty well.
Tim: You were playing against a GLIAC team this weekend do you always use aluminum bats when you play against these teams?
Matt: The GLVC is one of the only wood bat conferences around so unless we are playing a GLVC team it will always be a aluminum bat game.
Tim: As a pitcher, what does using aluminum bats do for your earned run average?
Matt: Aluminum bats seem to take your ERA up because there are a lot more hits that take place that wouldn't with a wood bat.
Tim: Do you think the GLVC should use aluminum bats or the NCAA in general?
Matt: Aluminum bats might be the worst invention for baseball. They are dangerous and teams get more hits off me with them.
Tim: Are you the best pitcher on this year's team? Are you better than your brother was?
Matt: We have a lot of talent on our pitching staff this year, everyone has there strengths and weaknesses. Mike, my brother is going to be starting his third year of pro-ball this year, so I can hardly say that I am better than him.
Tim: Matt, how is moving to Florence's Champion field going to help the Norse?
Matt: I think it will bring in more recruits. I think that's why we don't get more top recruits they see some of the Division I fields and just turn their nose up at us.
Tim: Do you think the NKU students are going to drive to Florence to watch the baseball team?
Matt: If they want to see some good baseball from a great team that will be a contender for the regional championship this year, so yea I think they will be there.
Tim: If you had to design a playing facility here at NKU, where would you locate it and what would the field look like?
Matt: I would put it right where our field is now but switch home plate with center field so wind blew in, for the future NKU pitchers.
Tim: If you were a hitter, what pitcher on the Northern staff would you hate to bat against, other than yourself?
Matt: Nate Jones, he has one of the sickest drop balls I have ever seen. But I would rip Greg Pass.
Tim: What is the best field to play on in the GLVC?
Matt: I am going to have to say ours now. We are going to be playing on a professional field, which is every little kids dream.