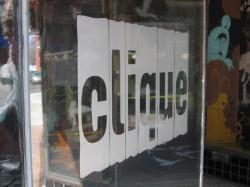 Rich Shivener
All directions are pointing to Covington, Ky. As an up-and-coming bar located in the art district, Clique is a much needed addition to the local bar scene. It offers a posh environment that serves great drinks and even better music.
After walking in the door, all eyes are drawn straight to the disc jockey booth, around which the room's decor is centered. Long, lush benches line the walls and there are chairs that can be pulled together to create a circle with friends, to people watch or to check out the DJ as he spins the night away. Clique's decor features mod furniture and interesting, eye-candy artwork.
In the second room is a long silver bar with shelves displaying all the beers, wine, and hard alcohol available.
Clique has all the bar basics, but it puts an interesting spin on bar drinks, with specialties such as caphirinas, mojitos and sangria. The wine menu is short but fun, with a Latin American influence. Clique also offers a variety of Tequilas. A mixed drink or a glass of wine will cost $5 and expect to pay $4 for a beer.
Besides offering a great selection of alcohol, Clique prides itself on the variety of DJs. Every night of the week, different DJs spin from their collections. The music selection never gets boring as it includes indie, soul, deep house and old school.
On a weeknight, the crowd at the bar is sparse but the music makes a visit worthwhile. In order to get the full Clique experience, go on a weekend night when the crowd is hopping and the DJs never disappoint.
Clique is a great place to go on a date, hang out with friends or to enjoy some excellent music. The Covington location can be a drag, but once you are inside the trip is well worth it.
Want your bar or restaurant reviewed? Know one that deserves a shout-out or shoot-down? E-mail Pam at
pamelatrzop@hotmail.com