Union planned for 2008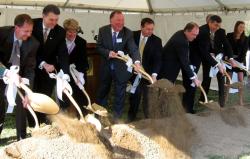 After 14 years of planning and anticipation by NKU students and administration, shovels finally hit the spot where Northern Kentucky University's new Student Union Building will stand.
Students, faculty and members of the community gathered on Feb. 15 to be part of "yet another step in the development of Northern Kentucky University," said President James Votruba.
Regents, alumni, and business, community and university leaders took turns shoveling dirt from the land where the new Student Union will be in 2008. According to Votruba, the future is promising and holds much more in store for the university.
"The future is not something we enter; the future is something we create," Votruba said, quoting theologian Leonard Sweet.
According to student regent JenniferPerry, "this new Student Union is going to be a phenomenal building for the student body in the future years."
The new Student Union will become the "main street and the family room of the campus," said Dr. Mark Shanley, vice president of Student Affairs.
Many generations of students paid to make this dream a reality. Features like the 900-person ballroom and the Student Involvement Center will make this "a facility for all," Shanley said.
Among those who attended was Michelle Deeley, NKU's student regent from 1990 to 1991. Remembering back to when she was a student at NKU, Deeley said she couldn't believe all of the changes that had and were taking place.
"When I went to school here, I lived in the dormitories," she said. "There wasn't a cafeteria open on weeknights or on weekends past 4:00. There was pretty much nothing to do." According to Deeley, the new Student Union will give students something to do and somewhere to go in the evenings and weekends.
Kathy Stewart, director of special events at NKU, organized the groundbreaking ceremony. "I think it went wonderfully. We couldn't have bought better weather," she said. Having worked at NKU for 24 years, she knows all too well the issues with space in the University Center, which is "exactly why we need the new center," she said.
Many of the students in attendance were very excited about the new Student Union. Kayla Evans, a freshman chemistry major, was one of them. "I'm so glad that I could be a part of the groundbreaking," she said. "It was like being a part of NKU's history."
Since the majority of NKU students commute to campus many of them just attend their classes and leave, said Angela Davidson, a sophomore photography major. She said she feels that those students don't get as much out of the college experience as students who live in the dormitories and spend more time on campus. "With a new Student Union, hopefully every student can experience NKU to its fullest," Davidson said.
Immediately following the groundbreaking, all in attendance were invited to the University Center ballroom for samples of the Chartwells food that will be served in the new Student Union. "This is an example of all of the venues that will be there," said Steve Sweeney, CEO of Chartwells.
The venues included samples of pizza, cheeseburgers, subs and smoothies.
Many people tried food samples, making for one extremely packed ballroom. Andrew Wilson, development officer in University Development, commented on the incredible amount of people there and said, "Chartwells has done a great job in presenting what they will have available at the new facility."