In the hot seat with Tim Downer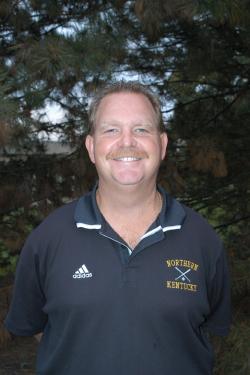 Tim Downer
Chip Gregg, is entering his fifth year as Northern Kentucky University assistant softball coach. He specializes as the hitting coach and a recruiter and he is the guest for this week's 'Hot Seat.'
Tim: After a season like last year's 55 wins and 2 losses, how do you top that?
Chip: Win a National Championship, that tops any win streak.
Tim: Who are the captain for this year?
Chip: Rachele Vogelpohl, Ricki Rothbauer and Becky Napier.
Tim: What are the hopes and aspirations for this year?
Chip: The hope would be that this team comes together, improves and we play our best late in the season. Our goal is to win every game we play.
Tim: How will you have your veterans of the team mesh with the freshman?
Chip: I don't think you can force team chemistry, the veterans were freshmen once too.
Tim: Any newcomers the fans should watch out for?
Chip: Michelle Critchelow when she is able to play will have an immediate impact as a pitcher.
Shatona Campbell will be an exciting player to watch hit.
Cara Parker will make plenty of spectacular plays at third base.
Tim: With NKU's recent success, will you change any of your routines for the year?
Chip: There is no pre-game dance that Emily, Megan, Cotty and Rachele used to do. Megan is a coach here, and Cotty and Rachele still play. I would like to see them do that again. It kept things loose before the game.
Tim: Did we pick up any home run hitters this year?
Chip: Shatona Campbell will hit some.
Tim: How does the pitching look for the year?
Chip: We have two pitchers, both are freshmen and one of them is out indefinitely. It will be a challenge and I'm sure the pitchers will respond in a positive way. Our freshman 1st baseman is pitching now until Michelle Critchelow is healthy enough to return. There will be some growing pains but the pitchers will step-up.
Tim: How did you do in your first road trip of the year? Were there any surprises?
Chip: We didn't play well. One win and two losses; we will get better and hopefully get healthier. It was snowing in Alabama during our game. That was surprising.
Tim: What is the movie that was played the most on your recent road trip? Dirty Dancing?
Chip: Dirty dancing was played on the way to and back from every road trip for a few years. That tradition took a hit last week as we didn't play it at all. There may be something to that.
Tim: Do you for see a return trip to the NCAA Regionals this year?
Chip: Yes, I feel we will continue to improve as a team and be in the NCAA Regional tournament.
Tim: What is your favorite buffet you belly up to?
Chip: Any all you can eat buffet is a good thing. I like Chinese the best.