Baseball team gets new home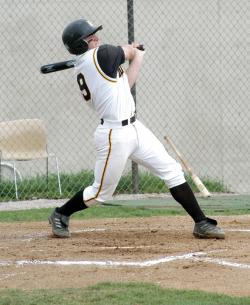 Tim Downer
Imagine you're an eager baseball recruit.
You've been visiting colleges and universities for weeks attempting to find the perfect fit in order to continue your athletic career. Your list of prospective schools has been whittled down to two and you must finally choose between Northern Kentucky University and another institution.
Both are offering similar scholarship money. It's a close call. But when it's time for the potential student who's visiting NKU to get a peek at the actual baseball facility, that's truly where the chips will fall.
In past years, a quick glance at Friendship Field would have more than likely sent a wavering prospect back across the river to accept another offer. This year is the first time in his six-year coaching stint, NKU Head Baseball Coach Todd Asalon finally has a facility that's attracting young recruits. But most importantly, he's finally found a place he's proud to call home-even if home is not on campus.
Feb. 25, the Norse will not only open their regular season against Grand Valley State, but will begin a new chapter in NKU baseball history as well. As the squad will officially make the move to Champion Window Field in Florence Ky., the home of the independent minor league team Florence Freedom of the Frontier League.
The Freedom organization and NKU have agreed to a five-year deal that will virtually give the Norse complete access to the facility, including all aspects and perks usually granted to minor league players.
Each (NKU) player will have their own cubicle, Asalon said. "They each will have their own locker, nameplate, uniforms hanging, anything they want. Florence gave us the (visitor) clubhouse, so the team went up and we carpeted it. There's a kitchen area where we can have a nice spread. It's going to be like a minor league experience for these guys. On game days instead of coming (to campus), there's a charter bus that's going to pick us up at eight in the morning, get us to the ballpark and we'll have breakfast all laid out and then we'll get ready for the day."
This move came on the heels of a D-I study orchestrated by the NKU administration and Athletic Department. After evaluating the facilities on campus, all parties agreed the baseball program was in need of some sort of change to recruitment, game attendance and overall allure. The move to Florence was the answer to every question.
"I think our athletes deserve it," Asalon said. "We've had a lot of success here, we've gotten a lot of guys drafted. Yes, we would love nothing more than to walk out of our office here and play on campus at a nice facility. But this is the next best thing and we feel very fortunate."
Asalon also said that the new surroundings will benefit the community.
"I really believe deep down that we'll get more people to come out and watch our games," he said. "To move to a stadium with chair-back seating, rest room facilities, concession stands is great. It's going to be a pretty neat deal for people and admission is free of charge."
As mentioned, athlete recruitment was also a factor in the decision to play home games off campus. With regional teams having made significant improvements to their baseball programs, changes were essential for NKU to keep up.
"If you look around, the schools we recruit against every day-Cincinnati, Miami (Ohio), Dayton, Louisville, Kentucky, Eastern Kentucky-they all have brand new facilities. I'm talking state-of-the-art, million-dollar facilities. That's what I'm up against," Asalon said. "If (the school) wants me to get a strong caliber athlete, I've got to have a facility to show off."
Taking the Norse show on the road to Champion Window Field is already showing its positive impact.
"I just had a kid give a verbal commitment yesterday," Asalon said. "His final decision came down between Northern and Oakland University in Rochester. We took a tour of campus, but then we drove out to Florence and his eyes lit up. We walked through the clubhouse, saw where his locker would be, looked at the brand new scoreboard, everything. Ultimately he picked us over a D-I school. I asked him later on, what his final decision was based on, and he told me that he really liked the idea of playing in a minor league park."
Asalon will not be the only one adjusting to the transition to a new home field. His five seniors who played on Friendship Field for three years will leave behind a slew of memories. One of those seniors, catcher Conor McGeehan said that he and his fellow upperclassmen are ready to create new memories in Florence and are as excited as their coach to play in their new surroundings.
"They're treating us just like we were another minor league team coming to play a game," McGeehan said. "The move to the new field is going to provide a lot more of a baseball atmosphere. It's going to be more exciting. As a team, we'll be allowed to focus a lot more too because we won't have to be the ones taking care of the field. (The Freedom) have their own grounds crew which will allow us to concentrate strictly on playing the game."
In years before, the players were responsible for field maintenance, which in some cases meant getting to the diamond at 6 a.m. to rake it over or pull the tarp, or sometimes staying late after a doubleheader in the heat to treat the field and have it ready for another game the next day.
The Norse, who were chosen pre-season No. 3 in the Great Lakes Valley Conference, will open the regular season with a seven-game home stand at their new home, beginning with a doubleheader against Grand Valley State at noon on Feb. 25. For more information on the park or directions to the field, visit http://www.florencefreedom.com/general.asp