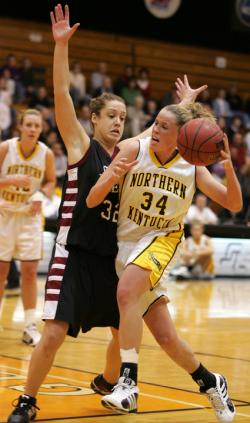 Tim Downer
Last week was a busy one for Northern Kentucky University athletics. Both the men's and women's basketball were in action and the softball team started their season by traveling to Alabama. The women were also able to climb back into the top 25 for the first time in two years.
The Norse women's recent success has put them back in the national scene. The No. 24 Norse came out shooting against the University of Indianapolis Feb. 9 on their way to winning big 81-62.
Katie Butler led Norse scorers with 14 points off the bench. University of Indianapolis' guard Mandy Geryak scored 23 in her team's loss.
NKU was able to extend its streak of wins to 14 after they avenged an early season loss to St. Joseph's.
NKU shot 50.8 percent from the field as well as 60 percent from the 3-point line. Nicole Chiodi led the way with 14 points.
The Norse women remain ranked No. 24 nationally and No. 3 in the Great Lakes Valley Conference East Division.
NKU's softball team traveled to Florence, Ala. over the weekend to get their season started. They played a double-header Feb. 10. They were defeated in the first game 7-0 by the University of West Florida. Shortstop Rachele Vogelpohl was the only Norse player able to manage some hits going 2-for-3 in the game. Game two was a different story as the Norse was able to come away with a 4-1 victory over No. 4 University of Alabama-Huntsville. Center fielder Kara Lorenz went 3-for-3 with one RBI. Catcher Sarah King added two RBI's as well.
The Norse men first played host to Indianapolis Feb. 9. Consistency was a problem all game long as NKU was unable to hold onto a few leads. The Norse eventually had to come from six down to rally and beat a team that has won three games all year.
With the game tied at 71, freshman Billy Finnell was able to draw a foul with 3.8 seconds on the clock. He went to the foul line with the game in his hands and made both free throws to put the Norse on top for good. NKU won 73-71.
The Norse had three players score in double-digits. Travis Rasso and Mark Hawkins led the way with 14 points apiece.
Feb. 11 was a game the Norse fought hard for as they were taking on No. 10 St. Joseph's College. The Norse upset bid was stamped out late in the second half after NKU battled all night.
St. Joe's Sullivan Sykes, who scored 28 points, made a basket with 1:26 left in the game put his team on top. He was also able to convert some key free throws in the final seconds to give him team the victory.
Mark Hawkins led in scoring with 15 points. Billy Finnell added 13 in the defeat.