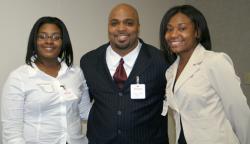 Contributed by Cynthia Pinchback-Hines
NKU students Christina Holmes and Kanita House participated in talent pool training sponsored by INROADS, a firm that develops and places talented minority youth in business and industry and prepares them for corporate and community leadership. The training started on Friday evening, February 3, with students from area high schools and colleges gathering to experience INROADS' version of leadership boot camp. Ms. Holmes and Ms. House arrived at their dorms late Friday evening, studied interview questions and prepared their resumes for mock interviews on Saturday. The two NKU students reported to the Fifth Third Bank Center by 7:30am, where Dean Pinchback-Hines grilled them on practice questions in preparation for their mock interviews. Interviewers were local business executives from Cintas, Convergys, Fifth Third Bank and US Bank. "I was really nervous," said House, a freshman Business Management major. She continued, "But I think it was worth attending. I was really pleased with my evaluation from the mock interview." Holmes, a freshman Marketing major, said about the experience, "INROADS talent pool training was free and you leave with knowledge that is priceless in corporate America." Both Holmes and House are encouraged by their mock interview evaluations and await placement.
[INROADS seeks high performing African American, Hispanic, and Native American Indian students for internship opportunities with some of the nation's largest companies]. INROADS Talent Pool training is conducted several times throughout the year. Students interested in connecting to the INROADS talent pool must have at least a 3.0 GPA and at least two summers of course work remaining. Contact African American Student Affairs for information: UC 209, 859-572-6692.