In the hot seat with Tim Downer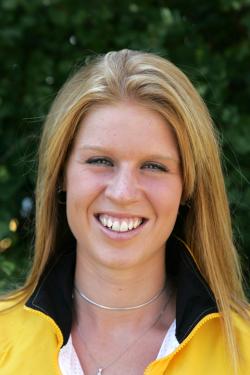 Tim Downer
Julie Hoekzema, sophomore Northern Kentucky University cross country athlete, who finished first at the AJ Jolly meet and made the Great Lakes Valley Conference all conference team honors this year is this week's guest in the 'Hot Seat.'
Tim: Julie, you just ran in the Valentine race on this past Sunday how did you do?
Julie: I placed second for the overall women.
Tim: Was the result what you expected of yourself?
Julie: The Valentine's Day Race is one of those races you can't expect much from with the weather, and the training, but yes I think I fulfilled my overall expectations.
Tim: How do you train during the off season?
Julie: I am definitely a warm weather runner so I tend to train a lot harder in the summer, than the winter. My main goal in the off season is to get my mileage up, which is hard for me because I would rather do speed than long runs any day.
Tim: Julie, do you have a certain eating regiment you follow the day before and the day of a race?
Julie: I always try to drink a lot of water and eat lots of carbs.
Tim: On any given day, how many miles do you run off season? During season?
Julie: In the off season, it can range from 20-50 depending on the weather, and what time of year it is. I run a lot more in the summer than in the winter. During the season we run between 40 and 60 miles per week, depending on what race is coming up.
Tim: What do you think of while you are running a race? Have you ever run a race while listening to an iPod?
Julie: I try to always keep my mind on the race, the competitors and my splits. While running races, I have never listened to music or an iPod, but I listen to music a lot when I am running by myself. It makes time go by much faster.
Tim: What is your favorite cross country trail in the GLVC?
Julie: Our cross country course at AJ Jolly because I know it like the back of my hand, and we always get a good showing of family, friends and alumni.
Tim: What was your best race this past season and what are your goals for next year?
Julie: My best races were Disney 5K, and the Conference at St. Joe's. (6K) My goals for next year are to be top in my conference and region and qualify for the national meet, in hopes to become NKU Women's cross country first team All-American.
Tim: Does it bother you or your teammates that cross country is not viewed by many people?
Julie: It doesn't really bother me. I think I am kind of use to it since I have been running so long, but having a lot of fans there definitely makes things more exciting. As for the team I think they are pretty much all use to it, as well.
Tim: What is the one food item you love to eat but is bad for your training?
Julie: I love chocolate, and I tend to eat a lot of junk food and pop, which altogetheris not good for any runner.
Tim: What is the outlook for next year's team?
Julie: I am so excited about next year all the girls are awesome, and we are getting a few very good recruits in the fall. I think we have a chance of being very competitive in the GLVC.