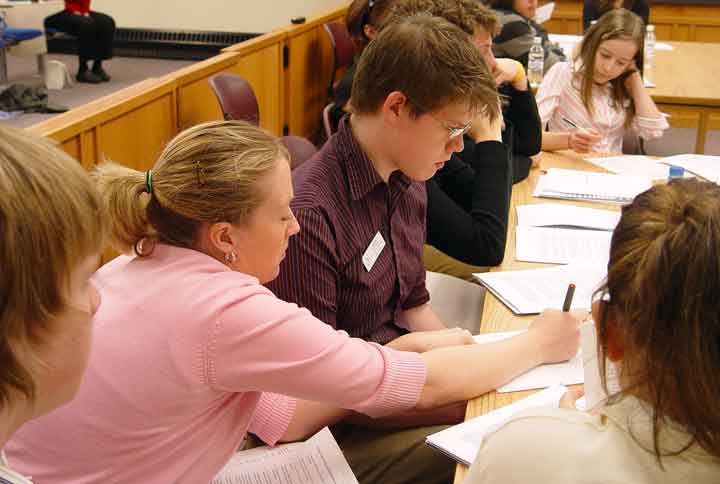 Photo contributed by Megan McCarty
It's like something out of "The Practice." The jury, the trial, the witnesses … the high school students?
Feb. 9, Salmon P. Chase College of Law sponsored Regional Youth Leadership Justice Day, coordinated with the help of Chase Professor and Director of Clinical Programs Kathleen Hughes.
Through Justice Day, students learned how to tell a counterfeit bill from a real one, heard a rescue story from a United States Secret Service agent and became a lawyer, witness or juror in a mock trial of a reckless homicide case in front of a real judge.
In addition to encouraging students to examine ethical dilemmas that lawyers face and helping them gain knowledge of the judicial system, the goal of the program, according to the Regional Youth Leadership Program, is "to expose student[s] to the role that law plays in our society in a variety of areas and to examine the many functions that lawyers perform in those areas."
Students were able to see multiple examples of that role. The day's events included talks by Jim Liles, director of the Northern Kentucky Drug Strike Force, and Matthew Mann of the United States Secret Service, before everyone broke off into small groups to discuss legal ethics issues with Chase professors.
While the students were actively engaged in all parts of the program, the mock trial in Chase's Moot Court courtroom before Judge Gregory M. Bartlett of Kenton County Circuit Court was what students said they enjoyed most.
"I liked the interactiveness of the mock trial," said Sean Spille, a student at Villa Madonna Academy in Villa Hills. "I enjoyed the atmosphere, and I liked that everyone received a part."
Chase law student volunteers coached the high school students through the trial process on aspects such as what questions to ask the witnesses and when to object. In teaching the high school students what they are learning to do themselves, Chase students gave the high school students a peek into the world of the law student.
Theresa Henke, a student at Bishop Brossart High School in Alexandria, played a key witness in the trial as Officer Shannon McFadden.
"I thought about being a lawyer when I was younger," she said. "Doing this brought back what was appealing about it."
Acting as the prosecutor questioning Henke was Steve Davis, of Holy Cross High School in Covington. He wants to be a pilot, but he enjoyed being a prosecutor just the same.
"I like being able to get up there and argue," Davis said. "It's pretty sweet to be a lawyer."