Actors celebrate vagina writings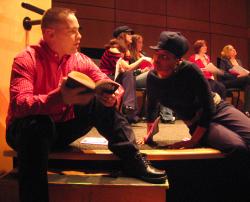 Sean Dunn
Whether a performer screamed vaginal euphemisms or conveyed a tale of private-part acclamation, guests of the Otto Budig Theatre absorbed an hour and a half of female-anatomy discourse Feb. 8.
They were subjects to a 12-person cast – comprised of Northern Kentucky University students and faculty – that took the theater's stage to perform "The Vagina Monologues," a play by Eve Ensler.
"Our cast was amazing, and they were all volunteers," said NKU instructor Mari York, who co-directed the play with senior James Ernest.
"In the past, I've forced my classes to be in it and it hasn't worked as well."
The play's title speaks for itself – the volunteers read monologues (either they chose or the directors assigned them) and "Vagina Facts," which are historical tidbits about that particular part of the female body.
Sticking to the original introduction written by Ensler, a performer opened the monologue-oriented play with information about V-Day, a worldwide movement that looks to halt violence against women, and the inaugural performance of the "Monologues."
That performer was actually NKU junior Mike Brown, who, according to York, insisted on being a part of the play. This is the first time NKU's adaptation of "The Vagina Monologues" has ever featured a male.
"He really wanted to be a part of it, because for him the message was very important to talk about womens' issues," York explained.
Brown concurred with York that he was not reading his monologue as a joke.
"I want (people) to know that men also appreciate what women go through," he said, "because the work itself expresses a love for the vagina, as well as a love for the woman."
The other performers continued with the play – only pausing very briefly between each person's monologues.
For the most part, these vaginal-related monologues read aloud conjured several laughs from the audience (and occasionally from the on-stage cast).
NKU sophomore Rachael Stefanussen braved it with her reading of "The Woman Who Liked to Make Vaginas Happy," a monologue that required her to imitate a slue of moans for nearly two minutes.
"Dang, that girl moans good," one student from the audience joked, which added to the eruption of laughter as Stefanussen moaned continually.
Nonetheless, Stefanussen, who actually memorized the lines of the monologues, laughed with her audience – and didn't fret at what the monologue required her to do.
"I'm a horrendously flamboyant person," she said. "I think (women) are much too stoic about our sexuality in this country."
Other monologues were as comical as Stefanussen's; however some were far from light-hearted.
Though junior Stephanie Vines read "Because He Liked to Look," a monologue that explains one man's obsession with vaginas, she also took on "My Vagina was My Village."
"The second one has to do with Bosnian rape victims," she said, "