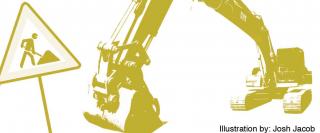 Illustration by Josh Jacob
With groundbreakings planned for several construction projects, students at Northern Kentucky University can expect to see big changes over the next few years. Additions include a hotel, a retail complex and new academic buildings.
The most immediate project is the $37 million new Student Union on which construction will start Feb. 15. The building will be next to University Center and extend into lot A. Because of this, lot A will be permanently closed as of Feb. 13.
The most expensive project is the $60 million Bank of Kentucky Center. Construction will begin on the arena in April 2006. The arena's capacity will be between 9,000 and 10,000 seats and will be located on the corner of University and Nunn drives.
"It should be finished by the spring commencement in 2008," said Larry Blake, Assistant Vice President of Facilities Management.
Blake said the arena could be used by the entire region. "Of course (NKU) basketball will be one of its primary focuses," Blake said. "But music concerts, the circus and trade shows could be held there. Basically any event that you can think of that would be appropriate for a facility of that size."
A couple months after the arena's ground breaking, the NKU Foundation will begin constructing a $30 million hotel, office and retail complex on 12 acres at the front entrance of the university.
The private developer that is building the complex has estimated it will be completed by fall 2007.
The 100-room hotel that will be attached to the complex will be available to campus visitors, opposing sports teams and anyone else who would like to stay there. The complex will house such popular restaurant chains as Bone Fish Grill, Chipotle and Panera Bread.
The hotel should make it more convenient for large companies to visit campus, said Mike Baker, executive director of the NKU Foundation. Baker said that when there is somewhere for company representatives to stay, more companies should send representatives to come look at the campus and recruit NKU students.
"We are hoping this will attract co-op and internship opportunities for our students with top-notch companies," Baker said.
Plans are also being made to construct two new academic buildings. A $35 million building for the new College of Informatics is proposed along with a $31 million building for the School of Nursing and Health Professions.
Besides the construction of new buildings, several renovations are planned to improve the existing buildings on campus.
The university is trying to allot $15 million to improve Founders Hall and has already set aside funds to construct a greenhouse on the top of the New Science building next month.
"I spend a lot of time in the New Science building and I look forward to being able to check out the planetarium on my breaks," sophomore Amber Holtkamp said.