In the hot seat with Tim Downer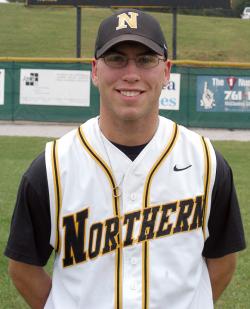 Tim Downer
Brittany Winner, a junior forward from Minster, Ohio, (home of another 'real' Oktoberfest) and member of the Women's Northern Kentucky University basketball team is this week's guest in the 'hot seat.'
Tim: Brittany, you transferred from Elon University in North Carolina, why did you choose NKU?
Brittany: I was recruited by Elon and NKU in high school and I was fortunate enough to have Coach Winstel give me a second chance to come play for her. NKU's great athletic program and being closer to home both played a big part in bringing me here.
Tim: Where is Minster, Ohio, located and what is the town known for?
Brittany: Minster is about 2 hours north off of I-75 between Dayton and Lima. It's a very small town, but if someone has actually heard of it, it's usually either because of our track and cross-country teams or because they've been to the real Oktoberfest in Minster.
Tim: Did you have a hand in recruiting a fellow Minsterian, freshman Karen Brackman to NKU?
Brittany: Well, one day last year Coach Winstel asked me if I knew anything about her and what I thought about her possibly being on our team. I thought it was a great idea – she's so talented and her personality fits in with our team really well. So when she came on her official visit I was her host and showed her around the area a bit, but the decision was hers to make and I think she made a good one.
Tim: Brittany, you are tied with Angela Healy for the number of steals on the team with 31. In high school you set a school record in steals. Is this an acquired trait or do you need really fast hands?
Brittany: I don't know. I guess having quick hands doesn't hurt, but I think I just try to read the passer's eyes and then anticipate the pass. It's just a habit that I've developed.
Tim: The women's team has a 12 game winning streak. What is the main reason for this success?
Brittany: I give a lot of the credit to our defense as a team. We really take a lot of pride in our defense, and I think that discipline is starting to carry over into our offense.
Tim: Was Drury the toughest team you have faced this year? What will it take to beat them if you face them again?
Brittany: I think Drury is definitely one of the toughest teams we've played so far, but I also think we are very capable of beating them. I think if we really pressure them defensively like we did the first time and take better care of the ball against their press.
Tim: Against Bellarmine in the Homecoming game you hit the winning shot. Was this a designed play for you or was it happenstance?
Brittany: Coach told us to run our "gold" offense because it had been very effective. That shot is one of the looks that that offense creates, so it wasn't really a special play, just that we were disciplined and executed the offense the way it is supposed to be.
Tim: Brittany, what is your major, and what do you want to do after graduation?
Brittany: I'm majoring in Spanish Education and hope to teach high school Spanish and coach high school basketball and track.