Winner hits final-second shot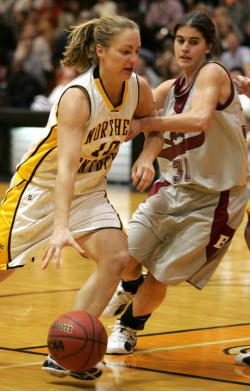 Tim Downer
Northern Kentucky University junior forward Brittany Winner can't remember ever knocking down a game-winning shot.
But with a victory hanging in the balance Jan. 28 at Regents Hall, Winner didn't look like a player afraid to take the pressure shot down the stretch. And after tying the game with a jump-shot just minutes before, Winner slid off a screen, knocked down an 18-footer with 13 seconds to go and chalked up a basketball moment she'll never forget, as NKU defeated Bellarmine 66-64 in front of a pumped up Homecoming crowd.
"It's a good feeling; I'm not going to lie," Winner said. "This one will definitely stick out in my memory for a long time. I don't know if that was necessarily the shot we wanted at the end of the end of the game, but we'll take it."
Winner, one of five NKU players who finished in double figures, scored 13 points in the contest and set up her own heroics by giving the Norse (16-3, 9-2 Great Lakes Valley Conference) its first lead 63-61 with 1:20 remaining – something they hadn't owned since the 16:19 mark in the second half. During the final five minutes of the game, she scored six of her team's final seven points, propelling the Norse to their 10th straight win and keeping them at the top of the GLVC standings.
"I think for any player, once you make a couple (shots), your confidence just goes up," Winner said. "And it was the same way for me. When it came time to make a play, I thought, 'That's my range. That's my shot – I can make that."
NKU Head Coach Nancy Winstel was equally pleased with the result.
"That young lady (Winner) is just such a player," Winstel said. "She played a lot of minutes tonight and I was really worried about fatigue, but her and Angela (Healy) and Karyn (Creager) stepped up and made some big jump-shots for us."
Bellarmine, the team that defeated NKU during last season's GLVC Tournament, never quit throughout the evening and held a seven-point lead.
Led by Kellie Peyton's 12 points, the visitors from Louisville shot 71.4 percent from the 3-point line in the second half and knocked down all six free-throw attempts and had a chance to force overtime at the buzzer, but Denasha Mondy's off-balanced shot was too strong.
"It's Homecoming, so everyone expects you to win," Winstel said. "And on top of that, you're playing Bellarmine who is very, very good – they've just had a few tough games here lately. Our conference is just so tough and we knew (the Knights) were going to come in here and play hard. They're like a wounded animal and were just really tough. I think they would've beaten a lot of teams with the way they played tonight. We just had enough. We have to go down there and play them at the end of the year, and they'll be ready for us."
Saturday's game didn't start quite as well as it ended for the Norse. Plagued by early foul trouble and loose post defense, NKU fell behind the Knights (9-10, 5-6 GLVC) 24-20 with 7:24 left in the first half. The NKU duo of junior Creager and freshman Cassie Brannen provided a much-needed spark, however, allowing Winstel's squad to stay in it.
During one stretch, Creager, who finished with a team-high 14 points – converted seven consecutive Norse points in just over a minute span, which pushed NKU back ahead on the scoreboard. Brannen was equally effective, as she collected nine points and six rebounds in the opening half. She finished with a double-double scoring eleven with ten rebounds.
Junior Karmen Graham scored 13 points and dished out three assists, sophomore Angela Healy accumulated a second NKU double-double (11 points, 11 rebounds) and junior Betsey Clark notched four key assists in 16 minutes of play in contributing to the win. NKU shot 44.6 percent from the field and 76.5 percent from the free throw line.