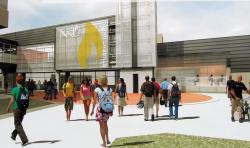 Photo Illustration
Since 1992, Northern Kentucky University has set aside a portion of student fees and is now using the money to pay for the building of the new student union. A lot of time and effort is going into fundraising in order to enhance the project, according to Andrew Wilson, development officer in university development.
The new student union, set to be completed in the spring of 2008, is not a newly devised addition to campus. According to Mark Shanley, vice president of student affairs, "student leadership has been working toward this goal since around 1989."
With so many alumni having worked so hard to accomplish their goal of having a new student union built, many alumni are expected to donate private gifts.
According to Dean of Students Kent Kelso, the university is focusing on raising money from alumni because officials hope that the new student union will be a place that focuses on the history of NKU and its students. "Many alumni want to be a lasting part of this university," Kelso said.
Money raised from private donations, for the rights to name certain rooms, will be used to supply "enhanced programming, furnishings and equipment," Shanley said.
Even after only being open for one day, the building will need maintenance so some of the donated money will be set aside to cover those everyday things. "We want to keep the building at its best," said Kelso.
Shanley, Kelso, and Wilson are heading the fundraising project on campus and meeting with alumni and former student regents. They aren't focusing on getting donations elsewhere.
"This isn't really a project that you go to big corporations on because this is so NKU and so much a part of our alumni," Wilson said.
According to Shanley, anyone who donates a set amount can have a room named after them. The Governance room, which is where the SGA plans to meet, along with the new SGA suite is being considering by a group of former SGA presidents. Any donation of $1,000 or more will be recognized on a plaque on the wall outside of the Grand Ballroom.
Everyone is invited to attend the official groundbreaking for the new student union Feb. 15 from 12 p.m. until 1p.m. in the University Center.