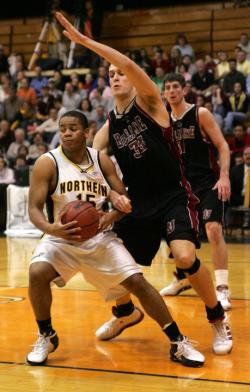 Tim Downer
Give Northern Kentucky University men's basketball Coach Dave Bezold credit – he's a man who acts heavily on instinct.
Mere minutes into NKU's Homecoming battle with Bellarmine Jan. 28 Bezold pulled three of his starters off the floor, including senior Gavin Ludgood after the Norse quickly fell behind the visiting Knights.
"We had to make a lineup change," Bezold said. "That first group didn't have, for whatever reason, the chemistry or the energy tonight and things weren't clicking. So when that happens, you've got to change the horse."
"The result of the switch was just what the doctor ordered for NKU (13-5, 8-2 Great Lakes Valley Conference), as junior Kevin Schappell and sophomore Mark Hawkins entered and took advantage of the opportunity. The two combined for 24 of NKU's 33 first-half points, including six 3-pointers and an overall 69.2 shooting percentage from the field. That jump started the Norse and eventually led them to a 75-63 win in front of more than 1,400 fans at Regents Hall.
Schappell and Hawkins finished a combined 11-for-20 from the field, including seven 3-pointers out of 12 attempts. Schappell credited Bezold for properly preparing his squad for the long ball looks.
"We were looking for them in the first half," Schappell said. "Bellarmine collapses all five guys in the paint and Coach Bezold told us they were going to do that. So our point guards collapsed the defense and did a good job of kicking the ball out and then it was shooting (the 3-pointers) just like we were in practice. We knew they were going to be there."
Bezold echoed Schappell's explanation and said his team's extra time off the week prior made a difference in preparation.
"The 3-point shot was something we had to look for, as dictated by Bellarmine's defense," Bezold said. "They're a team that collapses heavily on penetration. We were fortunate enough to have off a week to prepare for this, and that's what we've been working on during our time off. They stop the ball better than anyone in the conference, and when they do that, you have to be under control and able to find the next receiver. We worked on that very hard."
After taking a 33-29 lead into the locker room at halftime, NKU attempted to pull away in the early stages of the second half, but were stalled by Bellarmine's (9-10, 6-5 GLVC) Matt Miller.
Miller, who finished with a team-high 20 points caught fire midway through the second half and pulled the Knights within one point on several occasions.
But consecutive 3-pointers from who else – Schappell and Hawkins – and a pair of free throws by sophomore Travis Rasso stretched the NKU lead back to eight, 53-45 with eight minutes remaining in the game.
With about two minutes to go, freshman guard Billy Finnell rattled off four straight points, pushing the Norse to its' largest lead of the night 68-55 with 1:17 to go.
Finnell, who finished with 15 points also pulled down five rebounds and dished out four assists.
Bellarmine fouled until the final horn blew, putting the Norse at the free-throw line 21 times in the second half.
With the victory, the Norse kept their winning streak alive, maintained its second-place position in the league, kept pressure on conference-leading St. Joseph's College atop the GLVC standings and gave what Bezold hopes was a "good show" for the fans on hand for Homecoming.
"There's two reasons why it was so big to win tonight," Bezold said. "For one, Homecoming. You don't have the opportunity to have this many people in your gym all the time, so when they come, you've got to put on a good show for them – to earn their respect so that maybe they'll come back again to watch us. The other thing is, we only have two home games left and we've got to win them. Home court is very important because we have a very unbalanced schedule."
The Norse, who shot more than 50 percent from the field as a team, were also led by sophomore Harrison Morton's nine points and game-high seven rebounds and freshman David McFarland's 3-point, five-assist performance.
Starters Ludgood and sophomore Vince Humphrey combined for six rebounds in 25 minutes of play.
NKU will be in action again Feb. 2 at Southern Illinois-Edwardsville and Feb. 4 at Quincy before returning home for their final regular season home games, including a Feb. 11 showdown with first-place St. Joseph's.