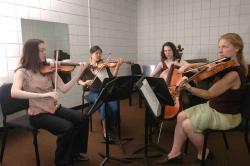 Azmari members Christina Merblum, MinTze Wu, Rebecca Merblum and Meghan Casper
When members of the Azmari String Quartet talk about music, they can't conceal the passion and excitement they have for their art.
Serving as artists-in-residence at Northern Kentucky University, the ensemble is working toward a goal.
"We want to create a bar of excellence (in the music program). That is what separates a university from a conservatory," said Christina Merblum, violin.
Christina and her twin sister Rebecca Merblum, cello, along with MinTze Wu, violin, and Meghan Casper, viola, comprise the Azmari String Quartet. The quartet received its current position in 2004, right after completing a Graduate String Quartet Residency at Northern Illinois University in 2003.
All graduates of the Cleveland Institute of Music, the Azmari, which means "to sing" in Aramaic, formed in May 2003 and began studying under the Vermeer String Quartet. Members of the Azmari String Quartet formed bonds with instructors and other performers in the chamber music community along their path of study.
The community of musicians who play chamber music is extremely colleague based and almost like family, Christina said. "People who at one point were your mentor or your significant professor become your colleague. (They become) people who are just important in your life."
The group teaches students in the string program of the NKU music department. "It's a very new program," Casper said, that started around the time the quartet received its position.
Wu said that the quartet hopes to create students that will draw more people to study music at NKU.
As artists-in-residence, their work isn't just with NKU students, but with the community as well. While studying in Chicago, they worked with the International Music Foundation, and presented educational concerts for Chicago public schools. The group is currently working to establish a similar connection here in the tri-state.
"But we're not out to recruit future musicians, we just want to raise awareness of the arts," Casper said.
"We want to introduce something with excellence and intelligence to people that have never seen a violin before," Rebecca said. "Maybe even inspire one kid."
Each member experienced an exposure to the arts at a young age. Wu began playing when she was 3, and the other members weren't too far behind. The Merblum sisters started by age 6. "My parents didn't play any instruments," Wu said, "but they both love music."
"Our grandparents were huge concert-goers," Christina added, and they took Rebecca and her Christina to several performances and other artistic events.
Rebecca said the group has hopes of helping create a wider variety of music programs in public schools, something reminiscent of their early education. Rebecca, Christina and Casper all remember having the ability to learn string instruments and piano in public school.
"You'd be hard-pressed to find a school that did not provide a full string, wind, choir program for everybody," Christina said about schools on the East Coast, where she and her sister grew up.
With an ever-growing concert schedule, one of the group's purposes as artists-in-residence is to perform. Their current schedule has them playing several events in the Cincinnati area, and they're currently awaiting responses from several competition applications. Casper said that the group is also planning on participating in another artist-in-residence program over the summer in Canada.
"The one thing that is most difficult to communicate about what we do is what our lives are like," Rebecca said. "What does it mean to be an artist?"
"It's not within the brackets of a 9 to 5 (job)," Casper said. With several hours of personal practice a day, along with group practice, performing and teaching, their typical routine takes discipline and extended hours, she added.
The Azmari String Quartet is currently preparing for a performance in Greaves Concert Hall Feb. 1 at 7:30 p.m. For more information, visit www.theazmariquartet.com.