Winstel: We were almost unstoppable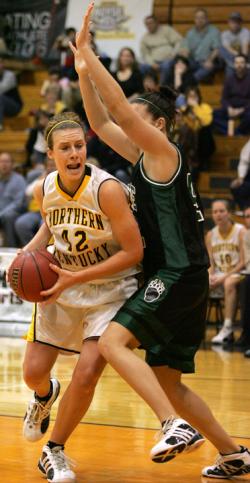 Tim Downer
The big game at Regents Hall Jan. 19 was the Lady Norse taking on the Lewis Flyers (10-6, 6-2). It was a match-up for first place in the GLVC East and by the end of the game the Lady Norse would prove that they were worthy of the No. 1 position.
The Lady Norse went to battle in the first half with Angela Healy, who had 12 points in the game. The Lady Norse's defense was excellent throughout the game, but the Norse would not come away with a victory without a fight from Lewis. Northern Kentucky University led at the half, 37-25.
"Our kids played well. I thought in the first half, in some ways, we were unstoppable. Then, once again, we stopped executing," NKU Coach Nancy Winstel said.
However, the Lady Norse held on to the game late in the second half with some clutch scoring by Junior Karmen Graham, who also had 12 points in the win. Graham hit two free throws late to help the Norse get a 54-49 lead with 1:18 left.
"We had some ups and downs in the second half, but we were able to pull away and win," Graham said after the game.
The Lady Norse did just that, winning the game with the final score being 62-51. The Lady Norse now have sole possession of first place in the GLVC East with a (13-3, 7-2) record.