Vampire sequel doesn't suck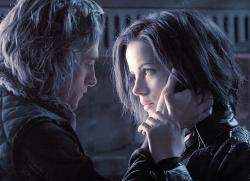 If you liked "Underworld," then you'll love its sequel "Underworld: Evolution." The movie stars our favorite death dealer Selene (Kate Beckinsale) along with the hybrid-Lycan Michael (Scott Speedman). These dynamic lovers must find the oldest immortal of the vampire clan to explain the death of Viktor (Bill Nighy) before the vampires and Lycans destroy each other. On the way, Selene reveals her vulnerable side, turning this tale of blood lust into a love story.
This movie is rated R for violence, gory scenes and mild nudity. Movies.go.com rated this movie at a C- to a D, but the fans were kinder with a rating of B+. My rating is an A- because it has great action scenes and realistic virtual effects.