'Scientists' good in theory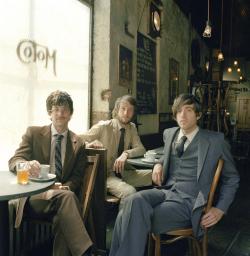 I recently spent a week examining the We Are Scientists' debut album "With Love and Squalor," and I have concluded this J.D. Salinger-obsessed band serves its listeners an expected, but still enjoyable, music experience.
The Scientists might generally be described as the New York version of Phantom Planet with a Hot Hot Heat twist, though influences from The Smiths and Devo are heard throughout their music. Pop-sensibility is a definite theme on this album, and the music can be predictable and repetitive at times, but that by no means makes this album bad. In fact, We Are Scientists is quite comparable in song writing skill and musical talent to many of today's upper crust hipster bands. Lead singer and guitarist Keith Murray has mastered both of his crafts quite well, while drummer Michael Tapper and bassist Chris Cain provide more than adequate support for Murray. Most importantly to today's music scene is the fact that almost every track is danceable.
The most prominent tracks on the album are "Nobody Move, Nobody Get Hurt," "This Scene Is Dead," "Callbacks," and "The Great Escape," as all three incorporate the best combination of the Scientists' talents, and very catchy hooks. Is "With Love and Squalor" a work of musical genius? Not quite. Is it incredibly entertaining, cheeky and infectious? Absolutely. It fulfills most needs any music fan might ask of an album: You can sing with it, you can dance to it, or you can simply sit around and bask in its loveliness – for awhile, until it starts getting repetitive.
Then you can take a break and come back to it later, where you will be drawn right back in – for a bit.