Norse squeak by conference rival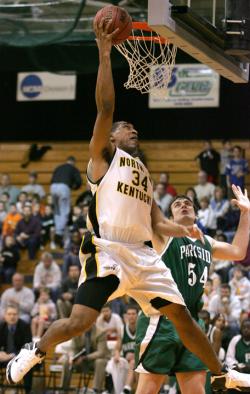 Tim Downer
Many would have thought this season the Northern Kentucky University's basketball team was not going to be as great as some in past, but the players on the team feel differently about that. The Norse were at home January 19th to take on the Lewis Flyers. All they wanted to do was win to improve upon their impressive record thus far.
It was a close basketball game in the first half as the Norse tried to get the edge over the Flyers. A few standout players for the Norse in the first half were freshman Billy Finnell and senior Gavin Ludgood, who put down a monstrous slam early with 14:51 on the clock. At the end of the first 20 minutes of play, it was 27-25, NKU.
"It's hard to watch sometimes from the stands because it's a smash-mouth game, and it's not very pretty," Coach Dave Bezold said.
In the second half, the Norse gave up their lead and allowed Lewis to jump ahead, 35-29, with 15:44 left to play. The Norse then got some big time 3-point shooting from sophomores Harrison Morton and Mark Hawkins.
"Mark Hawkins, Harrison Morton and Travis Rasso came in and gave us a huge lift, and offensively they were so important in the second half," Bezold said.
Morton started the rally by knocking down a long jumper from the sideline, followed by Hawkin's pair of 3-pointers, and Morton finished the run with a three-ball of his own to give the Norse the lead, 40-38 with 11 minutes to go in the game.
The Norse continued to go back and forth with Lewis in the second half, but they were not going to be denied their sixth GLVC win. Junior Kevin Schapell guided the Norse over Lewis in the end by hitting important free throws with 17 and 7 seconds left.
The 59-54 win improves NKU's record to 11-5 overall and 6-2 in the GLVC and give them a large dose of confidence going into their next game.