In the hot seat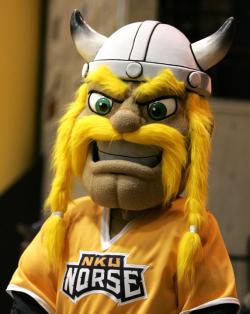 Tim Downer
I chose the NKU mascot for this week's guest in the 'hot seat'. During the Homecoming game this Saturday our unnamed mascot will receive his name.
Tim: Are you excited about getting your name during the Homecoming Game? Mascot: Yes, it will be great to finally know what to sign when people ask for autographs and to just have a name in general.
Tim: Where do you come from, and when were you created? How old are you? Mascot: I come from a land way up north that's not indicated on any maps. I was created in the year 1968, so I'm old enough.
Tim: Are you a mean mascot or a nice one? Mascot: I'm definitely a nice mascot, I like to hang out with all the kids who come to the games, but I can be mean when the time calls for it . Tim: What has been the reaction to you from the students? PB: The students reactions have been great, they love me way more than the dragon..
Tim: Do you scare any little kids? Do they cry? PB: Unfortunately from time to time I do scare the little ones, they just see me and start screaming. I guess I'm not as good looking as I thought I was.
Tim: Do you have a wife or a girlfriend? PB: No I don't, I am available and looking for that special someone.
Tim: If any of our opponents brought a mascot, would you challenge them to a sword fight? PB: Most definitely, and I would win. I'm much better at sword fighting than I am at free throws.
Tim: Do you speak? If yes, what language? PB: I do speak and it's mostly English.
Tim: Are you a natural blond or is that a dye job. PB: I'm all natural.