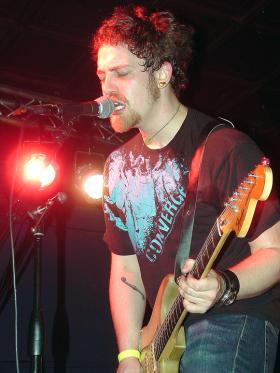 Northern Kentucky University senior Adam Rosing is an avid supporter of the local music scene. With a Web site (www.cincypunk.org) and four local-music festivals under his belt, he's gone above and beyond "scenester" status. And out of those projects, he developed a weekly showcase titled Cincypunk Presents. Held every Wednesday at The Poison Room (formerly Spy Club, Fathom and The Viper Room) in downtown Cincinnati, this new project that launched in November, opened another door for local music.
"Originally, I thought, 'There's no way this is going to work,' trying to get people out on a Wednesday night every single week," Rosing said.
So far it has worked, he added, by saying that the staff of The Poison Room has deemed Wednesday night, formerly the worst night of the week, the best night.
As far as which bands Rosing enlists on the Cincypunk bill – don't let the moniker fool you. Rosing said the bands that play his weekly rock show run the gamut – ranging anywhere from indie rock, street punk, hardcore to acoustic.
"We've been able to keep it kind of fresh," he said. "With the Cincypunk festivals, it kind of got a little stale because we went through the same 20 bands, and now we've broadened our horizons. It brings a different crowd out each week and keeps it interesting."
Rosing does most of the booking himself, but he also receives help from The Poison Room's bar manager Jenn Schenkel.
"I wanted to do something with Cincypunk because Adam is a strong supporter of local music in general," she said. "I feel like the demographic we are going after is people that are involved. I thought maybe if we could join forces and do a presentation once a week of bands I don't know and other people don't know."
Last week, four local bands were on the bill: three of which – Kicks of Passion, The Pretty Petty Thieves and Silver Bridge Disaster – include NKU students.
"I feel like I'm tannin' right now," lead singer/guitarist Matt Baker joked about the lights on stage during Kicks of Passion's 25-minute set.
The proceeds from Rosing's Cincypunk music festivals traditionally go to charity. However, for his weekly show, he and the bands split the door (admission is $3).
"If we have a touring band, I usually don't pay myself just because they obviously need the money more," he said.
Though his major is journalism, Rosing said he wants to pursue a career as a booking agent – and this weekly show is giving him a lot of training. The success of Cincypunk Presents, he said, caught the attention of Miller High Life, who now sponsors every Wednesday.
Additionally, the fuel from Cincypunk Presents creates the potential for another Cincypunk Fest. Rosing said the band-loaded festival should occur in May, when The Poison Room's second floor opens.
"I'd like to do one the weekend I graduate – I think that'd be pretty cool."